Ancient town hosts first folk custom festival
(chinadaily.com.cn) Updated: 2016-10-12
The opening ceremony of Qiujiadian town's first folk custom festival was held on Oct 9, the ninth day of the ninth month of the lunar calendar, the Double Ninth Festival, a holiday for senior citizens.
On the day, the elderly took part in numerous activities designed to improve their health and increase longevity.
The five-day folk custom festival will run until Oct 13, with the aim of promoting local tourism and attracting visitors.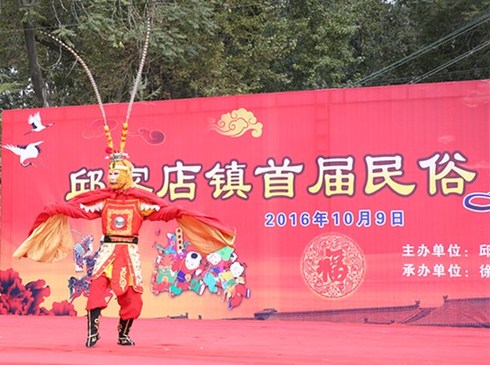 The eponymous Monkey King performs at the opening ceremony of the first folk custom festival in Qiujiadian town, Tai'an. [Photo provided to chinadaily.com.cn]
At the opening ceremony local calligraphers and painters handed out auspicious gifts for the elderly, such as designs featuring the Chinese characters for Fu and Shou. Fu represents blessing or happiness, and Shou means longevity and health.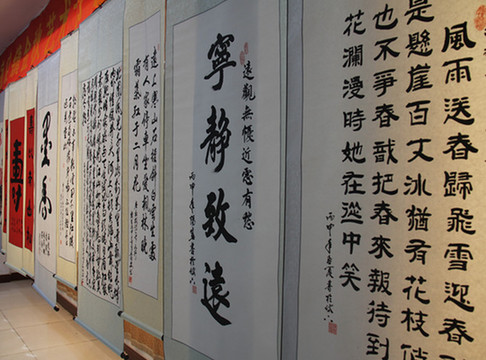 Local calligraphers express their good wishes to senior citizens through their elaborate works. [Photo provided to chinadaily.com.cn]
The festival will feature some 100 paintings and works of calligraphy by local artists, depicting natural landscapes and figures from myths and legends.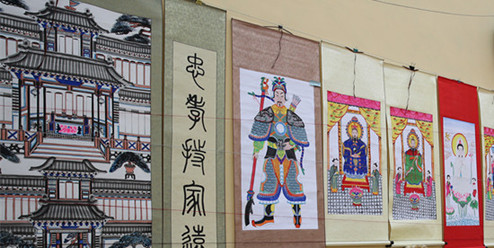 The works of local artists is on display at Qiujiadian's first folk custom festival. [Photo provided to chinadaily.com.cn]
Yang Bo, Party secretary of Qiujiadian town, said that he hoped that the festival would boost tourism and the local economy, and grow into a popular annual event.
Qiujiadian is a historic town in the Taishan district of Tai'an. The town is home to numerous intangible cultural heritages and folk arts, such as wood carving and engraving, suona, a woodwind instrument, stilt walking, and clay sculpture.