Shandong local operas take to the stage in Hong Kong
(chinadaily.com.cn) Updated: 2016-07-25
Traditional opera from East China's Shandong province was warmly received at the 2016 Chinese Opera Festival held at the Hong Kong City Hall from July 15 to July 16.
As the only county-level troupe invited to the festival, the opera institute from southwest Shandong's Heze city staged three performances integrating five types of traditional drama and eight operas.
Shandong opera has a wide variety of categories, including Shandong Bangzi, Daxian Opera, Zao Bang and Dapingdiao. Compared with other traditional operas, Shandong opera uses special traditional instruments.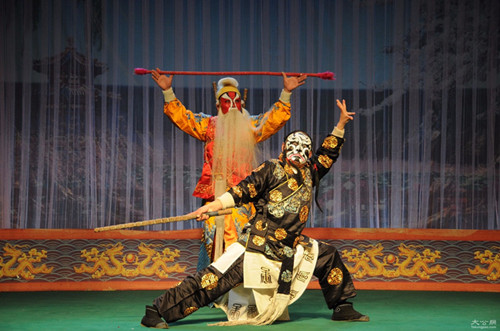 Characters perform Dapingdiao, a Shandong opera. [Photo/takungpao.com]
"The opera tunes are smooth, and use various musical instruments including gongs and drums," said Zhang Feng, an audience member from Hong Kong who watched Shandong opera for the first time. He said that Shandong operas combine both smooth and rough melodies, creating a refreshing sound.
Ying Dechuan, 76, an amateur opera performer whose ancestral home is Qingdao, said that he was very excited to hear original opera from his home town. He hoped that more local operas from different areas would come to Hong Kong to perform.
The director of the Shandong Heze Local Opera Institute, Xu Xiang Dong, told the media that Shandong operas wanted to take part in such activities to protect its cultural heritage, popularize opera arts and enhance mutual cultural exchanges between the mainland and Hong Kong.
He also said that the institute is in contact with officials in Taiwan to discuss promoting Shandong opera there.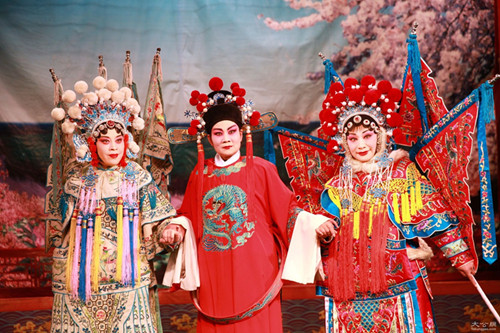 Characters from the traditional Shandong opera, Bangzi. [Photo/takungpao.com]