Ejiao's long history of globalizing TCM
By Zhao Ruixue and Wang Qian (chinadaily.com.cn) Updated: 2015-12-03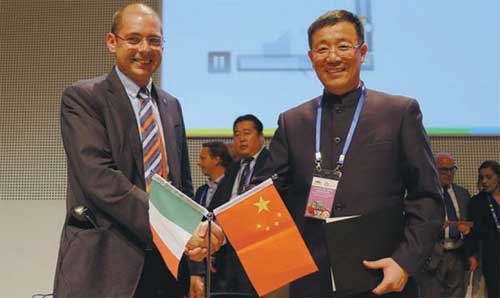 Qin Yufeng (right), CEO of Dong'e Ejiao, shakes hands with a representative of the University of Camerino in Italy after they signed a cooperation deal at Expo Milano 2015.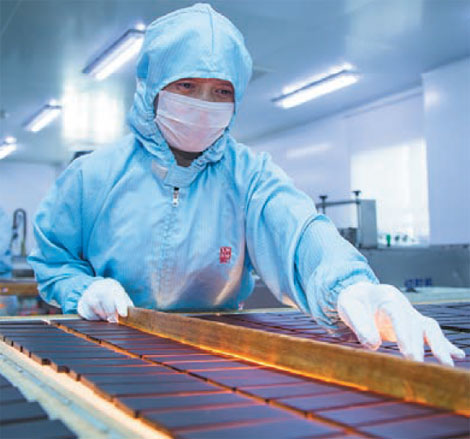 A worker at Dong'e Ejiao's factory arranges ejiao chips on a production line. Photos Provided to China Daily
A century ago, a number of Chinese companies displayed more than 11,000 items at the Panama Pacific International Exposition held in San Francisco in 1915 - in spite of difficulties transporting their goods - and won 1,218 prizes, earning China the highest total number of awards. The expo is regarded as a milestone for Chinese brands.
One hundred years later, the globalization process continues. Eight Shandong-based companies who won gold medals in 1915 received"100-Year Expo Company" certificates from Shandong provincial authorities at the opening ceremony of Shandong Week on Sept 16 at Expo Milano 2015.
"Being rewarded at Expo Milano is a great step for Dong'e Ejiao Co, a producer of traditional Chinese medicine walking onto the international stage," said Qin Yufeng, CEO of Dong'e Ejiao.
Ejiao, a national-class intangible cultural heritage that has a 3,000-year history in Shandong, is TCM made from donkey hide. It's essentially donkey hide gelatin and is said to improve blood circulation and boost energy levels.
"As a leading company in the ejiao sector, we have been dedicated to globalizing TCM for the past 100 years," Qin said.
Silk Road connection
Ejiao is named after its birthplace of Dong'e county in East China's Shandong province and is listed as one of the top three tonics in the TCM industry, along with ginseng and pilose antler.
According to a poem written during the Tang Dynasty (AD 618-907), concubine Yang Yuhuan ate ejiao every day to maintain her beauty. Emperor Xianfeng (1850-1861) of the Qing Dynasty (1644-1911) often gave ejiao as a royal offering.
Ejiao was exported overseas along the ancient Silk Road that connected China with the old Roman Empire and is the earliest Chinese health product to appear on the international stage.
It is said ejiao was among many souvenirs Italian merchant Marco Polo took back to his country after he traveled in China in the late 13th century.
Dong'e Ejiao, located in Dong'e county of Shandong province, has won several awards at international expositions. At the 1915 expo, Shandong's ejiao won the only prize for tonics. About a century later, Dong'e Ejiao again participated in Expo 2010 Shanghai China, to much acclaim.
Its participation at Expo Milano shows Dong'e Ejiao is making great efforts to globalize its products.
"We will speed up our globalization process to have more ejiao products available for overseas markets," Qin said.
Yan Xulin, an expert on brand development at Tsinghua University, said Dong'e looks for the best teams around the world to ensure the efficiency of its projects. The company, Yan said, also makes the most of both domestic and international resources.
Guaranteeing supply
As more consumers become aware of the nutritional values of ejiao, the supply of donkey hide gelatin products have fallen short of demand because of the lack of interest from farmers to raise donkeys, said Qin.
According to China's agricultural authorities, the number of donkeys raised by farmers dropped to 6.36 million at the end of 2012, compared with 9.44 million in 1996.
"Although resources are shrinking, demand for ejiao has risen by an average of 30 percent a year, driving more companies to join the ejiao sector," Qin said.
To ensure an ample supply of donkey hides, Qin lists material development as the company's major strategy. The company has spent 200 million yuan ($31.3 million) building 20 donkey farms in several provinces and regions including the Xinjiang Uygur autonomous region, the Inner Mongolia autonomous region, Gansu, Liaoning and Yunnan.
In addition, Dong'e Ejiao has set its sights on global bases. Marks on a world map in Qin's office show the company has developed donkey farms in South America, Europe and Central Asian areas. The company is also planning to build a farm in Africa.
On May 1, the company signed a contract with the government of Australia's Northern Territory to develop a project in Australia. The project is set to integrate donkey raising and processing.
One month later, the company signed a deal with Salazar Corp in Mexico to jointly develop the donkey-related industry.
To ensure the quality of ejiao, Qin enforces tight control on the complete industrial chain, which encompasses donkey breeding and raising, as well as production.
Electronic chips are implanted into the donkeys to monitor breeding.
To extend the ejiao industry, the company signed cooperation deals at Expo Milano with the University of Camerino in Italy and a meat producer in Australia.
"With a history of more than 700 years, the University of Camerino leads the world in the research of donkey hides, milk and meat. We will jointly explore the nutritious value of Dong'e black donkeys to raise the brand value of Dong'e Ejiao," Qin said.
In Australia, the company will buy a 1,345-square-kilometer donkey farm and a donkey-processing house.
Innovating a tradition
"TCM represents quintessential Chinese wisdom. With the resurrection of Chinese culture, TCM will become a trend on the international stage. As a leading company in the TCM sector, we have been committed to globalizing and standardizing TCM," Qin said.
Dong'e Ejiao showcased its popular product - Taohuaji and the newly developed product molecular ejiao tablets - at Expo Milano.
An Italian visitor said she wanted to taste ejiao after she read the TCM product has a history of more than 3,000 years and a reputation as one of China's best national tonics.
"It's a trend for TCM entering the overseas market, but new elements shall be added to the traditional Chinese medicine to fit the overseas market," said Qin.
The company spent four years redeveloping one traditional product - a syrupy compound of ejiao. In addition to treating anemia, a product can treat dengue fever.
Qin said the syrupy compound of ejiao has been listed as a national-class innovative medicine. Experts predict the product, as a TCM item, has great potential in overseas markets.
Qin said the syrupy compound of ejiao is popular in the United States, Canada and Southeast Asian countries such as Indonesia. Sales of the product at Indonesia reached 10 million yuan last year.
To date, the company's ejiao is among the top 10 TCM items with the highest export volume. The estimated value of the brand is 10.65 billion yuan.
"As demands from the overseas market keep expanding, we will develop new products and conduct clinical research overseas," said Qin.
Contact the writers through zhaoruixue@chinadaily.com.cn