Qufu hosts 7th Session of World Confucian Conference
(chinadaily.com.cn) Updated: 2015-09-30
The 7th World Confucian Conference commenced the hometown of Confucius in Qufu, Shandong province on Sept 27. The theme of this year's conference is entitled, "Confucianism and its contemporary value."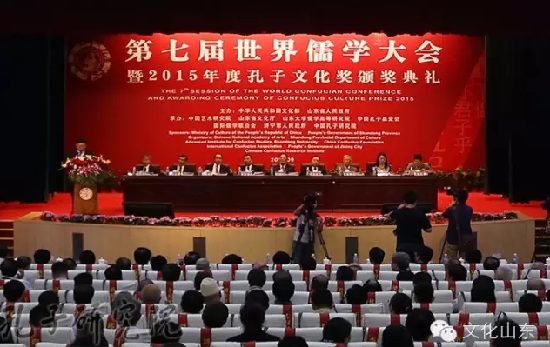 The 7th Session of World Confucian Conference is held in Qufu, Shandong province on Sept 27. [Photo/sdwht.gov.cn]
A total of 150 representatives from 15 countries and regions attended the conference, including those from the United States, Germany, Russia, Egypt, Australia, Singapore, South Korea, Taiwan and Hong Kong.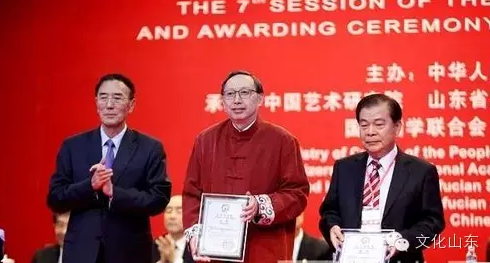 Chen Lai (C) and Dong Jinyu (R) receive the Confucius Culture Prize at the awarding ceremony. [Photo/sdwht.gov.cn]
The conference coincided with the awards ceremony of 2015 Confucius Culture Prize, where Chen Lai, a professor at Tsinghua University, and Dong Jinyu, a Taiwanese scholar received awards.
Established in 2009, the Confucius Culture Prize is the most prestigious prize in the Confucianism and honors teams, individuals and non-governmental organizations that have made outstanding contributions to Confucianism and traditional Chinese culture, and that have encouraged scholars and institutes to contribute in research.
Scholars such as Zhang Qizhi, professor of Tsinghua University; Du Weiming, winner of 2009 Confucius Culture Prize; Mou Zhongjian, winner of 2012 Confucius Culture Prize and Li Ruizhi, vice-president of International Confucian Association delivered speeches at the opening ceremony.
A number of books on Confucianism were unveiled on the same day as the awards ceremony, including on entitled, Report on Development of World Confucianism (2014-1015).
The sub-themes of the conference are "the philosophical mission of Confucianism in modern era", "Confucianism and the national soft power", "rites culture and moralities" and "Confucianism and the public culture".
The conference, founded in 2007, is an international Confucian event that serves to create a platform for research into Confucianism and act as a point of exchange and cooperation. It is sponsored by Ministry of Culture of the People's Republic of China and the provincial government of Shandong.
Confucius (551–479 BC), otherwise known as Kong Zi, was a Chinese political figure,philosopher and educator from the Spring and Autumn Period (770-476 BC). He founded Confucianism and is one of the most prominent cultural celebrities in the world. This year marks the 2566th anniversary of the birth of Confucius.