Over 150 scholars attend Confucianism meeting
By Chen Nan (chinadaily.com.cn) Updated: 2015-09-29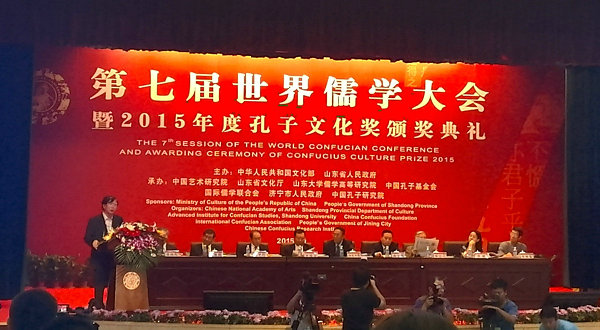 [Photo by Chen Nan/chinadaily.com.cn]
The 7th World Confucianism Meeting concluded on Tuesday in Qufu city, in east China's Shandong province, the hometown of the most honored ancient philosopher.
The event, which began on Saturday, aims to promote international research and cultural exchanges about Confucianism. It was attended by more than 150 scholars from 15 countries and regions.
Four topics were discussed during the conference, the Contemporary Philosophy Mission of Confucianism, Li Yue Culture and Social Morality, Confucianism and the National Culture, Soft Power & Confucianism and the Construction of Public Cultural Spaces.
A Youth Doctor Forum and a Young Learners of Confucianism from Japan and South Korea program were held during the conference.
Confucius, born in 551 BC, was a great philosopher whose thought held sway as orthodox ideology in China for more than 2,500 years.
During the opening ceremony of the meeting, Chen Lai, a professor from Tsinghua University, and professor Tong Kim-yu from National Chengchi University, were presented the Confucius Culture Prize for their achievements in researching and promoting Confucianism.
The Confucius Culture Prize was established in 2009 to honor both institutions and individuals that are globally acknowledged to have contributed to Confucian studies.
According to Wang Xuedian, executive deputy dean and professor at the advanced institute of Confucian studies in Shandong University, a book comprising the thesis of six Confucius Culture Prize winners, including professor of Peking University Tu Weiming and professor Roger T. Ames from Hawaii University, has been published in September.