2,600 historians from 90 countries meet in Shandong
By Ju Chuanjiang and Zhao Ruixue (chinadaily.com.cn) Updated: 2015-08-23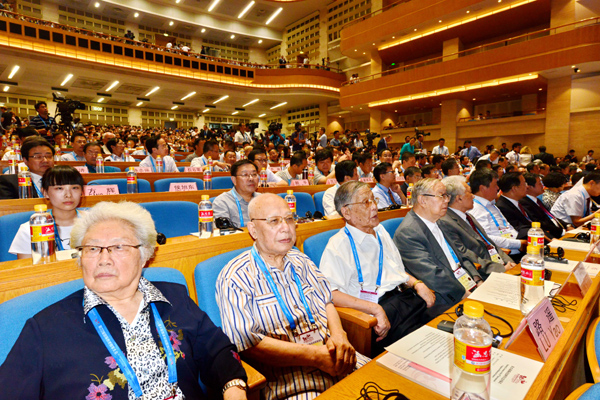 Historians gather at the 22nd International Congress of Historical Sciences (ICHS) in Jinan, Shandong province, on Sunday. Photo by Ju Chuanjiang/chinadaily.com.cn
More than 2,600 historians from 90 countries and regions came together for the 22nd International Congress of Historical Sciences (ICHS) which kicked off in Jinan, capital of Shandong province, on Sunday.
The congress, which will feature more than 170 seminars, will last until Aug 29.
Chinese President Xi Jinping highlighted the role of history in his letter sent to the congress's opening ceremony.
Xi said historical research is the base of all social sciences and "the study of history aims to explore the relationship between nature and man and learn from changes from past to present".
"History is our best teacher," said Xi.
"In its conferences the ICHS has opened the gates to multicultural sessions and crossed borders between different cultures. The Congresses of the ICHS, which take place every five years, are the biggest world meetings of the international community of historians," Marjatta Hietala, president of the International Committee of Historical Sciences, said at the opening ceremony.
"As I see it, the main success of the international conferences of Historians has been in gathering historians from different continents and countries to discuss new innovative themes, new methodological and thematic approaches and to undertake comparative research. Examples of these are the major themes of the 22nd conference in Jinan---China, from a global perspective, Historicizing Emotions, Revolutions in World History: Comparisons and Connections and the Digital Turnin History," said Hietala.
Guo Shuqing, governor of Shandong province, said it is an honor for Shandong, the hometown of Confucius, to hold the 22nd historical congress which is being held in an Asian country for the first time.
Guo said ICHS made a good choice to hold the congress in Shandong.
"Chinese historical sciences started in Shandong where Confucius edited the Spring and Autumn Annals, the first historical works in China," said Guo.