The invention changing East China camping
By Richard Whiddington (chinadaily.com.cn)
Updated: 2017-01-09
Since mid-2016, Qian has successfully trialed his brainchild at a picturesque park nestled on the shore Taihu Lake near Mashan Mountain. The site is only forty minutes by car from downtown Wuxi, Jiangsu province, and although visitors are lured by the peaceful atmosphere and the myriad of hiking and cycling opportunities, they have responded positively to the pod experience. With wonderful views and at prices of 360 yuan ($52.36) a night it is little wonder Qian was fully booked from June until October.
The pod is an Internet of Things Gateway product, meaning that it connects tangible things, like an air-conditioning unit, to intangible ones, like the cloud network. As a result, hikers that leave the pod on a hot summer day can use an app on their smart phone to preset the space to a cool the preferred temperature. Another example of an IOT Gateway feature is being able to open the door using a QR code.
Wuxi Dalai Interactive network Co attracted a large amount of attention at the 2016 World Internet of Things Exposition held in Wuxi October, 2016. The pods aren't available for individual sale but soon after the expo, Qian signed a deal with government authorities to roll out 5,000 pods in East China in 2017.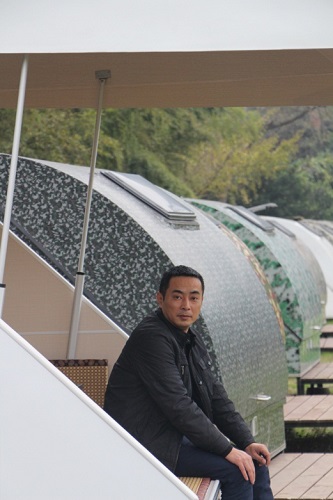 Qian Jianwei, the founder of Wuxi Dalai Interactive network Co, sits out on the decking of one of the smart pods. [Photo/Richard Whiddington]
Qian hopes this deal will be a sign of more interest to come and is close to releasing the pod's second generation.
"The second generation will come out and can fit three generations of a family together with the price staying close to that of the first generation."
Certainly, if Qian has his way you'll be spending a night inside one of his environmentally friendly pods sooner than you know it.
Tel: 0510-81178873
E-mail: haiyulu@163.com