The invention changing East China camping
By Richard Whiddington (chinadaily.com.cn)
Updated: 2017-01-09
It's difficult finding the right word to describe the product Qian Jianwei has invested most of his savings and the better part of two years developing.
We might label the 6-square-meter creation a micro-cabin. Spatially succinct, it combines the immersion of the tent experience with the amenities of a permanent structure. Qian's, however, can be disassembled and is built from environmentally friendly plastics not wood. It's not a snuggly Scandinavian cabin, more a sleek modern living room fitted with uber fast Wi-Fi. Perhaps smart pod is closer to the mark.
The pod's main room is comprised of a king-sized bed that transforms into a comfortable communal table in less than a minute. It also has cooking area (the word kitchen would be a stretch) and a fully functioning bathroom. It is certainly remarkable how much Qian has fitted into a space that is smaller than many car models.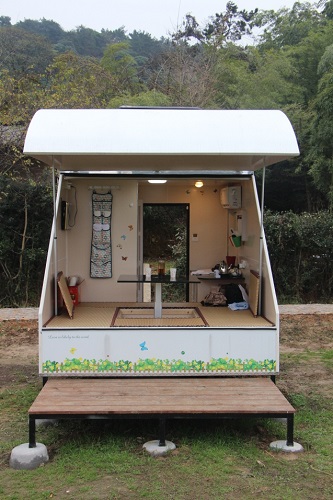 The smart pods are environmentally friendly accommodation made by Wuxi Dalai Interactive network Co, a Chinese company. [Photo/Richard Whiddington]
With rough and ready camping not being to everyone's tastes and campervan trailers barred from China's roads on account of width, the pod aims to fill a family-sized hole in the national camping market. It was an opportunity first realized by Qian when he began taking his young daughter on weekend excursions.
"My daughter and I love to go camping but in our experience staying in a tent is inconvenient, unsafe, and there is no place to take a shower."
Qian sought to rectify these nuisances of the outdoor experience by starting Wuxi Dalai Interactive network Co and focusing on creating a technologically savvy pod that offers people the best of both worlds. In the safety department, the pod features a rooftop camera connected to the local police and a preventative alarm to ward off pesky animals. Completely designed and produced in China, it has already accrued seven design and feature related patents.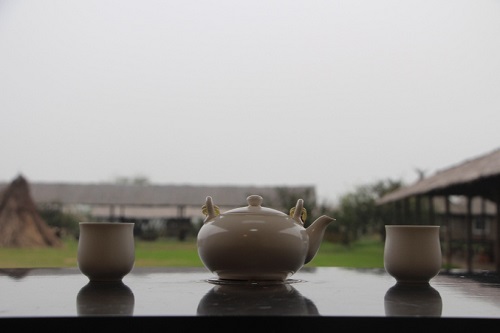 The back of the smart pod opens up so that people can enjoy a spot of afternoon tea on their very own deck. [Photo/Richard Whiddington]
The smart pod includes an air-conditioning unit, an internet television, a refrigerator, and at the push of a button a sleek retractable roof that backs the pod onto an expansive porch- perfect for idle summer afternoons. Intelligent design touches such as these reflect Qian's vision of transforming the way people enjoy the natural world.
"We focused on making something comfortable and safe. The quality of our product has surpassed European standards."
Tel: 0510-81178873
E-mail: haiyulu@163.com