Lingering drought in S China damages agriculture
(Xinhua)
Updated: 2013-08-07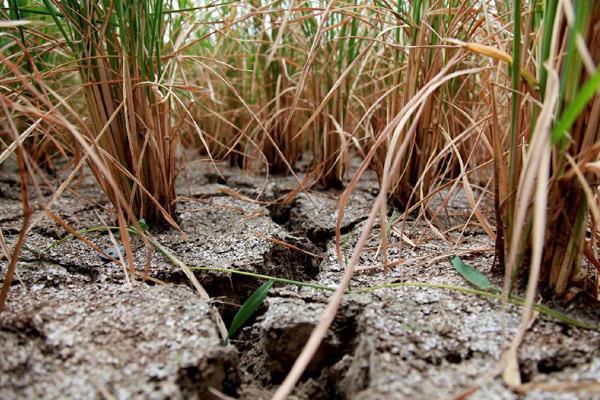 Photo taken on Aug. 3, 2013 shows a cracked farmland in drought-hit Pingxiang Village of Quanzhou County, southwest China's Guangxi Zhuang autonomous region. Quanzhou county has been afflicted by a severe drought since July, causing heavy losses to agricultural production. [Photo / Xinhua]
In neighbouring Zhejiang province, the drought has caused direct economic losses of 1.53 billion yuan (248 million U.S. dollars) and affected about 314,133 hectares of farmland, including 16,333 hectares that have been left unharvestable.
So far the drought has not caused the cost of rice to rise.
"A reduction of yields is likely to happen. Processing companies will adjust the price according to the market condition, "said Yang Xianping, who is in charge of Hunan Gaea Gem Group, a leading manufacturer for cereals and a listed company on the Shanghai Stock Exchange.
"The supply of rice is currently abundant in the market," said Yang.
Even so, the government is ready to face the challenges posed by the drought.
The Chinese government has earmarked 1.65 billion yuan to fight the drought and more cash will be used to aid relief efforts, according to the State Flood Control and Drought Relief Headquarters.
Local governments and residents are trying everything to relieve the impacts of the drought, including digging wells and transporting water from reserviors.
In Kaihua county, Zhejiang province, an anti-drought service team has sent 18 water pumps and nine immersible pumps to 11 towns, irrigating 733 hectares of farmland.
Anti-drought efforts will be hard work as the heat will last until the middle of August, with temperatures in some areas expected to hit 41 degrees Celsius, according to meteorological forecast.
The National Meteorological Center maintained a high temperature alert on Wednesday, as forecasters said some areas in Shanghai and Chongqing municipalities, as well as the provinces of Zhejiang, Jiangsu, Anhui, Hunan, Jiangxi and Fujian, could see temperatures climb to as high as 42 degrees Celsius.