Lingering drought in S China damages agriculture
(Xinhua)
Updated: 2013-08-07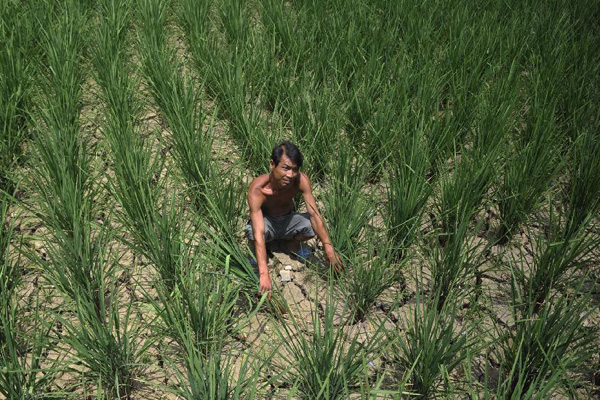 A lingering drought has left about 2.25 million people short of drinking water in the province. [Photo/Xinhua]  
CHANGSHA -- Wang Xiong has had the worst harvest in a decade due to the lingering heat wave and drought that has hit many parts of China this summer.
The 56-year-old farmer in Xinglong Village, Qiyang county, Hunan province, is expected to reap only 10 percent of harvest compared with previous years as his 2 mu (0.13 hectare) of paddy rice, 1 mu of peanuts, 1 mu of sorghum and 1 mu of mung bean and corn all withered up.
Only a third of the 662 mu of paddy rice in the village survived the drought thanks to a nearby stream, which is expected to dry up within ten days if the drought continues.
Lingering drought since July has caused severe damage to agricultural products, leaving millions of people and cattle short of drinking water.
The current heat wave has swept 13 provincial-level areas across China, leaving about 5.95 million people and 1.72 million heads of livestock lacking drinking water, according to a Ministry of Civil Affairs report on Monday.
About 4 million hectares of farmland have been affected by the drought as of Monday, according to the State Flood Control and Drought Relief Headquarters.
A total of 326 rivers have been cut off, 65 reservoirs dried up and 1,100 others with dead storage levels in Hubei province, dubbed "the land of a thousand lakes," as of Tuesday.
In Hunan province, which produces 13 percent of China's paddy rice, 913,333 hectares of farmland have been affected and 1.49 million people as well as 860,000 cattle lack drinking water, according to the provincial flood control and drought relief headquarters.
In Hepingxi Township, Mayang Miao autonomous county, one of the worst-hit areas, about 45 percent of the affected paddy rice fields are expected to have no harvest this fall. Some 72 of the 87 ponds in the town have dried up.
To save his crops, Wu Minmeng, a farmer in Tongdao Dong Autonomous county, is digging a water channel under the scorching sunshine to divert water from a spring on the mountain top to his paddy rice fields beneath.
The paddy rice is currently at its booting stage and the drought is very likely to reduce the yields and affect the planting of the late paddy rice, said Chen Liyun, a rice breeding expert at Hunan Agricultural University.