Deals valued at 250 million yuan ($38 million) were clinched by kiwi fruit enterprises of the Xixia county at the China (Xixia) Ecological Organic Kiwi Fruit Conference held in the area recently.
Xixia in Nanyang is famed for its agricultural production thanks to its good soil and favorable climate. It is located on the border of temperate and subtropical zones as well as humid and semi-humid regions and enjoys an average annual temperature of 15.2 degrees and annual precipitation of 1,000 millimeters.
Endowed with such favorable natural environment, the county is one of the best production bases of kiwi fruit in China. With a total planting area of more than 400,000 mu (26,667 hectares), the annual output of kiwi fruit stacks up to 10 million kilos per year.
Dubbed as the "hometown of kiwi fruit in China", Xixia has won several industry awards, such as Gold Prize of China's High-quality Agricultural Product, Gold Prize of 1999 World Horticultural Exposition and China's Excellent Kiwi Fruit Breed Award.
Recently, 360,000 mu of kiwi fields in the county are certified organic from the Organic Food Development and Certification Center of China, Organic Crop Improvement Association and ECOECRT.
Kiwi fruit, whether fresh, canned, juiced, powdered or jammed, not only sell well in more than 40 cities in China, but are also exported to South Korea, Ukraine and countries in Southeast Asia.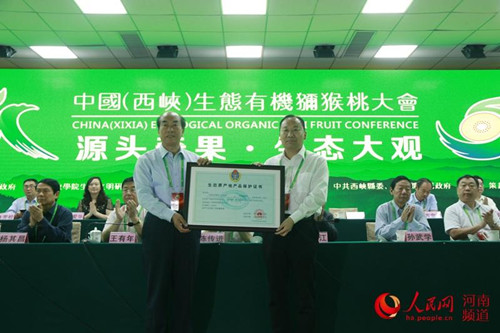 Deals valued at 250 million yuan are clinched by kiwi fruit enterprises of the Xixia county at the China (Xixia) Ecological Organic Kiwi Fruit Conference. [Photo/hn.people.cn]