Nanyang residents gathered to plant trees on March 12, in celebration of Arbor Day.
In recent years, Nanyang in Henan province has paid particular focus on creating a greener environment for the city as well as promoting modern agricultural practices.
The city government has emphasized ecological civilization, planting trees and plants by the roadside and along the main canal in the South-North Water Diversion Project. The city has also facilitated the White River ecological shelter forest, in a bid to make Nanyang a national forest city and a modern ecological livable city.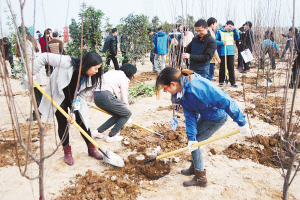 A Nanyang government department plant trees on Arbor day, March 12. [Photo / Nanyang Daily]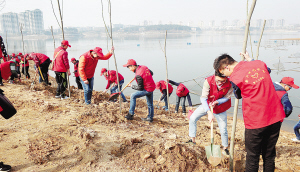 Students and teachers from Nanyang Normal University plant trees around the Lotus Lake on March 12. [Photo / Nanyang Daily]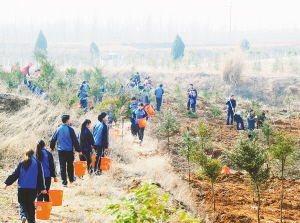 Students form a team to transfer water to irrigate the new saplings. [Photo / Nanyang Daily]
Edited by Owen Fishwick