The newly built tea garden in Maotang village, Xichuan county, Nanyang, recently entered its picking period.
According to Lu Yuanchao, local Party branch secretary, the village brought in the Greenwood Tea Company in 2012. After four years of development, the tea garden has taken shape and produced preliminary results in the development of a local tea industry.
The tea garden covers an area upwards of 1,200 mu (80 hectares) with an investment of more than 11 million yuan ($1.69 million). Thanks to management professionals in the company, tea leaves in the garden will appear on the market half a month ahead of the traditional tea becoming mature around Tomb-sweeping Day (April 4), bringing the tea garden favorable economic and social benefits.
In recent years, Maotang village has been vigorously developing its agriculture, especially its tea industry. It not only has created picturesque scenery, but also increased farmers' economic wellbeing and quality of life.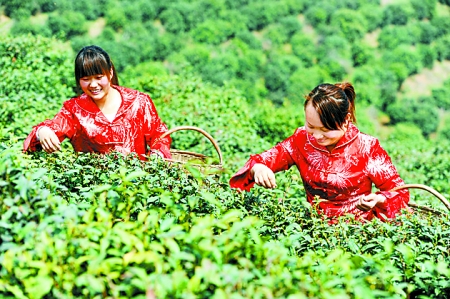 Two workers pick tea leaves in the tea garden at Maotang village in Xichuan county, Nanyang. [Photo / hnr.cn]
Edited by Owen Fishwick