The number of industrial enterprises above a designated size in industrial cluster districts was 613 in the whole city in 2013. A total of 108 more enterprises were added. Main business income was 163.88 billion yuan, increasing 24.3 percent from the previous year and accounting for 63.5 percent of the whole city. Gross output was 165.80 billion yuan, increasing 24.6 percent from the last year.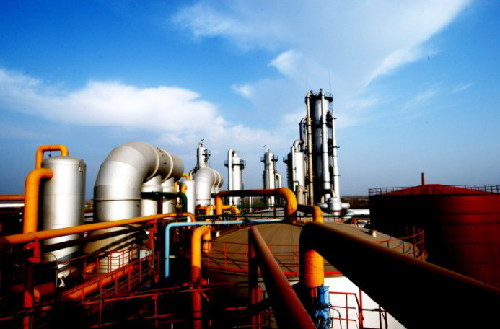 [Photo from nanyang.gov.cn]
Competitive industries in new energy, photoelectricity, electricity, oil and alkali chemical, advanced manufacturing, ultrahard material and textiles have already taken shape in Nanyang. There are more than 130,000 industry enterprises, 39 categories with more than 3,000 kinds of products, among which product output of fuel ethanol, natural alkali, explosion-proof electric machine, photosensitive materials, lincomycin, continuous casting crystallizer for steelmaking and protective materials rank first in China. Tianguan Group cooperated with Petro China to establish Petro China-Tianguan Group. Procan signed a property right transfer contract with CITIC American Company. Xuntianyu signed a cooperative agreement with American International Data Company. Xinfang and Lida have successfully listed. The main emerging industries, such as photoelectricity, biology, photovoltaic, ultrahard material and new type electricity have been the highlights of Nanyang's industries.