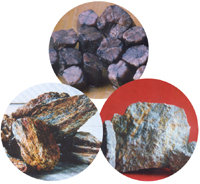 [Photo from nanyang.gov.cn]
Graphite is widely used in metallurgy, machinery, petrochemicals, defense, nuclear industry and cutting-edge technology for its good fire resistance, chemical stability, thermal conductivity, electrical conductivity, good lubricity and coating properties.
In the 1980s, the exploration, carried out by the geological exploration team of the State Ministry of Metallurgy, proved that the total storage of graphite resources in Xixia county was more than 100 million tons. Therefore, Xixia county was regarded as one of Asia's four largest graphite deposits.
Currently, with the rapid development of graphite-processing enterprises, led by Shibao Group and Long Cheng Group, Xixia provides graphite to 90 percent of China's large-scale steel factories to produce pre-slag protective materials.