A two-day animation-themed carnival was opened in Lanzhou, Gansu province on Feb 4, with a series of activities including cosplay shows and animation products sale.
Taking inspiration from the history of the Silk Road and wonderful Dunhuang murals, the Chinese dance drama Silk Road gives European audiences a taste of adventure.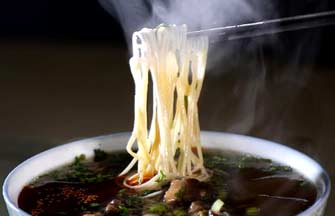 With a long history of over 100 years dating back to Qing Dynasty (1644-1912), beef noodle has won fame both at home and abroad.

The Yellow River battle drum is located in Shuanghe village in Baiyin district of Baiyin city, Gansu province.

The East Rome silver plate is a national first class cultural relic which was discovered in Jingyuan county, Baiyin city of Gansu province, and is now on display in Gansu Provincial Museum.

A series of prehistoric Yellow River petroglyphs, or rock engravings, which date back around nine thousand years were found in Baiyin city, Gansu province, in May 2010.

Faquan Temple, is a national 3A scenic spot, Gansu provincial cultural relic protection unit.
Huining shadow play is a type of traditional Chinese opera prevailing in Huining, a district of Baiyin city, Gansu province.