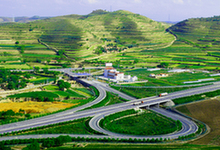 The city of Baiyin is located in the center of Gansu province, on the upper reaches of the Yellow River, between the Loess Plateau and the Tengger Desert.
Baiyin is becoming increasingly known for its achievements in science and technology, and the city is focused on industrial transformation and upgrading and the promotion of scientific and technological innovation.
Baiyin is an emerging industrial city. After 1949, following national policies regarding resource exploitation and utilization, the nonferrous metal industries in Baiyin developed rapidly.
Baiyin is an industry-oriented city where the industrial output has always ranked second in Gansu province, with non-ferrous metals, coal, electric power and chemicals as its leading industries.
Baiyin National High-tech Industrial Development Zone, was developed following an initiative of the Baiyin government and Chinese Academy of Sciences' High Tech Bureau at the Shenzhen Hi-Tech Fair in Oct 2001.