Trailer of 'The Sorcerer and the White Snake' released
Updated: 2011-07-22 17:21
By Cindy Gu (chinadaily.com.cn)
| | | | | | | | | | | |
| --- | --- | --- | --- | --- | --- | --- | --- | --- | --- | --- |
|   | | Comments() | | Print | | Mail | | Large Medium  Small | 分享按钮 | 0 |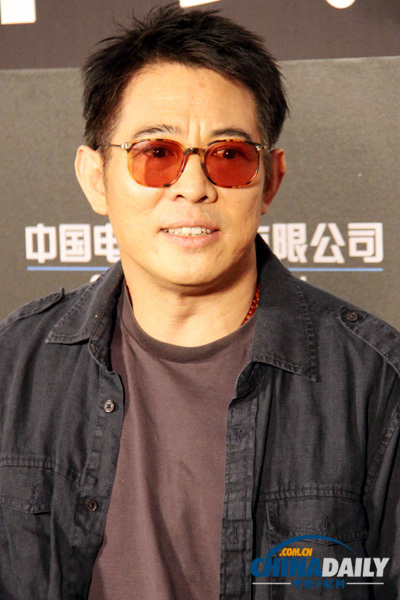 Kung Fu star Jet Li attends the release of the offical trailer of "The Sorcerer and the White Snake" in Beijing on July 19, 2011. [Photo/chinadaily.com.cn]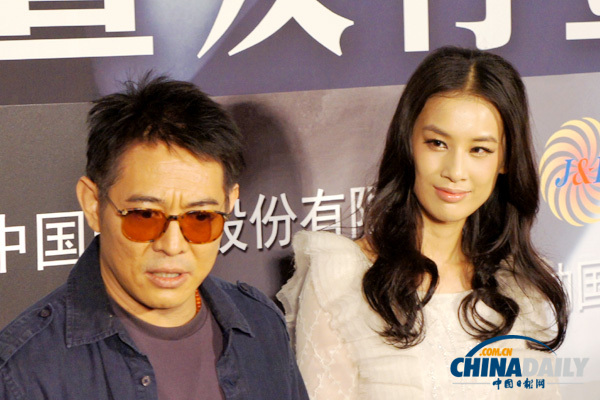 Kung Fu star Jet Li and Chinese actress Eva Huang attend the release of the offical trailer of "The Sorcerer and the White Snake" in Beijing on July 19, 2011. [Photo/chinadaily.com.cn]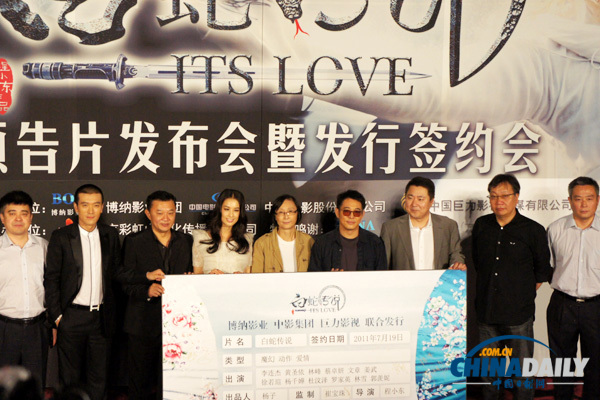 Kung Fu star Jet Li (R4), Chinese actress Eva Huang (L4), executive producer Chui Po Chu (C), Director Tony Ching (L3), President of Bona Film Group Yu Dong (R3), CEO of China Juli Group Yang Zi (L2) and others attend the release of the official trailer of the film "The Sorcerer and the White Snake" in Beijing on July 19, 2011. [Photo/chinadaily.com.cn]
J The official trailer of the movie "The Sorcerer and the White Snake," a Tony Ching film, was released in Beijing on July 19. Kung Fu star Jet Li, Chinese starlet Eva Huang, President of Bona Film Group Yu Dong,and Chief Executive Officer of China JULI Group Yang Zi,attended the press conference.
The official trailer of the film was shown at the press conference for the first time. The image of the entire body of the White Snake, played by Eva Huang, was also exposed in the trailer. Jet Li, who stars as Fa Hai (The Sorcerer) battles many goblins in the film, including the White Snake and the Green Snake, played by Charlene Choi. The synergy between real Kung Fu and fictional special effects was beyond imaginable.
"The Sorcerer and the White Snake," much favored by international buyers, is the best selling Chinese film of the year so far. The film is also a commemorate work between Jet Li and Chui Po Chu, world-renowned film producer from Hong Kong, as this year marks the 20th anniversary of cooperation between the two. 
Li has agreed to appear in the film for exceptionally lower pay as a gesture of gratitude towards his friend and trustworthy producer, Choi. "I am apologetic (towards Xu Xian, played by Raymond Lam.) But this is an act of friendship between Po Chu and I." With fighting scenes accounting for most of the film, Li also said that "The Sorcerer and the White Snake" is "one of the hardest projects" he has taken up recently.
The White Snake is an old folklore and a household name in China. It is a love story between the White Snake, a demon who has gone through a thousand years of training, and Xu Xian the herbalist. The story is a combination between tender emotions of love and mighty forces of Kung Fu. The film has more than 1,500 scenes and over 1,400 of those have special effects. With the most special effects in Chinese movies to date, the film is bound to win the hearts of movie-goers with its stunning visual presentations.
Li, founder of the "One Foundation," has cut appearances in movies to concentrate on his philanthropic career. "Making films is my part-time job," said Li. "But I enjoy making good films like this. I decided to take the role as The Sorcerer because of the script. The other reason is the attitude of Yang Zi. He looks like he's 'playing around,' but can be very serious when he works. If this is the way films are 'played' with, then I hope he (and others) will continue to'play.'"
The film will be released in late September.