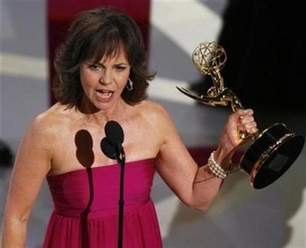 Sally Field accepts the award for Outstanding Lead Actress in a Drama Series for her role in 'Brothers and Sisters' during the 59th Primetime Emmy Awards in Los Angeles, September 16, 2007.[Reuters]
Sally Field, who raised the flag on behalf of wartime mothers in her bleeped-out Emmy acceptance speech, could just be warming up.
The recent best actress Emmy winner (ABC's "Brothers & Sisters) is attached to play Mary Todd Lincoln in Steven Spielberg's long-gestating biopic "Lincoln." The troubled Mrs. Lincoln bore the president four sons, only two of whom survived into adulthood.
Based on historian Doris Kearns Goodwin's "Team of Rivals: The Political Genius of Abraham Lincoln," the film is expected to focus on the 16th president's role in leading the North in the Civil War. Liam Neeson will play Lincoln. Previous reports had Marcia Gay Harden as a possibility to play Lincoln's wife.
Spielberg will turn his attention to the DreamWorks project once he completes "Indiana Jones and the Kingdom of the Crystal Skull."
In addition to her recent Emmy, Field is a two-time Oscar winner for her roles in "Places in the Heart" and "Norma Rae."