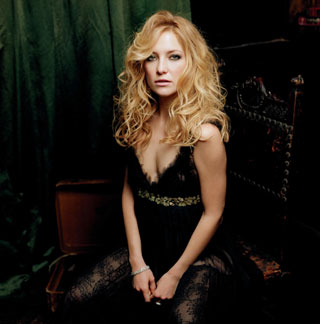 Kate Hudson
Kate Hudson went behind the camera for "Cutlass," one of Glamour magazine's "Reel Moments" short films based on readers' personal essays.
The goal of the competition, now in its third year, is to empower women by producing female-friendly short films and creating opportunities for actresses to direct. This year, the assignment was to capture the essence of happiness, the magazine said Monday.
The contest began earlier this year with stories submitted to Glamour. The magazine narrowed down readers' submissions and asked Hudson, Kirsten Dunst and Rita Wilson to choose their favorites.
Hudson, 28, selected "Cutlass," a generational tale about family and tradition. The short film co-stars Kurt Russell, Dakota Fanning, Virginia Madsen, Chevy Chase and Kristen Stewart.
Dunst, 25, cast Winona Ryder in "Welcome," a modern-day ghost story, and Wilson, 50, directed "The Trap," starring Jeanne Tripplehorn as a woman who finds happiness in trying something new.
The films will premiere Oct. 9 in Los Angeles. They will be screened Oct. 13 in the hometowns of the Glamour readers whose stories are told on-screen. The films will also be available on Glamour's Web site.