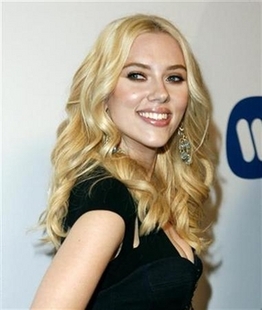 Actress Scarlett Johansson arrives at the Warner Music Group Grammy
after-party in Los Angeles February 11, 2007.[AP]
Scarlett Johansson has lined up a series of roles that will see her moving quickly from modern relationships to comic strip noir to costume drama.
Johansson has joined the all-star cast of the ensemble comedy "Into You," which she will shoot first, before then materializing as a femme fatale in "Will Eisner's The Spirit," being filmed by "Sin City" writer/director Frank Miller.
In the winter, she will don a crown for "Mary Queen of Scots," a long-gestating project to which she's has been attached to some time.
In "He's Just Not That Into You," Johansson will play a pilates instructor/aspiring singer who has an affair with a married man and hopes that he will leave his wife for her.
She joins Jennifer Aniston, Jennifer Connelly, Bradley Cooper, Kevin Connolly, Justin Long, Ginnifer Goodwin and Drew Barrymore in the movie of interconnecting story arcs dealing with the challenges of reading or misreading human behavior.
Ken Kwapis ("License to Wed") is directing the New Line movie.
For "The Spirit," Miller's adaptation of the classic Eisner film noir comic strip series, Johansson is in final negotiations to play a dangerous beauty named Silk N. Floss. Eisner's strip was known for its women with dangerous curves, and Miller is intent on keeping that tradition. Floss is a sexy and intelligent secretary with a vindictive instinct, making her the perfect accomplice to the Octopus (Samuel L. Jackson), an evil mastermind.
Gabriel Macht is playing the title character, a detective who fakes his own death in order to fight crime in Central City as the masked man known as the Spirit. Production is scheduled to start in October, with the film scheduled to be released domestically by Lionsgate in 2009.
The long-in-development "Scots" has been reinvigorated by the addition of new director John Curran ("The Painted Veil"). The period indie, a love story based on the early life of the ill-fated queen (Johansson), is scheduled to go before cameras in March in the U.K.
Johansson, most recently seen in Christopher Nolan's "The Prestige," returns to theaters next Friday in "The Nanny Diaries."