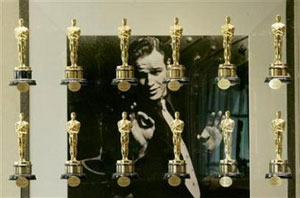 A photograph of the late actor Marlon Brando is framed by a portion of the Academy Awards bestowed upon films from movie studio Metro-Goldwyn-Mayer Inc., on display at the studios Los Angeles office, in this file photo taken March 8, 2006. [Reuters]
A new documentary about Marlon Brando shows he still mesmerizes fans who remember his range and raw emotion during a stunning career that saw him evolve from sex symbol to political activist to obese recluse.
"Brando," premiering at New York's Tribeca Film Festival, argues he remains the standard against whom actors are measured three years after his death and 60 years after he wowed Broadway with his performance in "A Streetcar Named Desire."
The festival, which ends May 6, was created by Brando protege Robert De Niro and is attended by experts familiar with Brando's work.
Yet the audience at Thursday night's two-hour and 45-minute screening howled with laughter at the humorous clips from Brando's most famous films and sat in stunned silence in the more poignant parts, such as his "I could have been a contender" scene from 1954's "On the Waterfront."
Producer Leslie Greif, who created the documentary along with writer Mimi Freedman, said the word "icon" was overused but nonetheless apt for Brando.
"That's what Marlon Brando is and was, because he was the first. He was an actor who stripped down, became raw," Greif said in an interview. "He wasn't afraid to take real emotion and real human angst and suffering and compassion and put it on film."
"Brando" will air in two parts on TV's Turner Classic Movies May 1-2.
Cinema greats such as director Martin Scorsese and actor Al Pacino appear in the documentary, still awed by a career that includes Brando's portrayal of sexy, volatile Stanley Kowalski in "Streetcar," and his later days as obese recluse.
Many of the 54 celebrities, childhood friends and relatives interviewed remain fascinated by Brando's range, subtlety and raw emotion.
"He was theatrical without being theatrical," said actor Martin Landau.
"He releases so much stuff it's like a walking sore," Dennis Hopper said.
Regarding Brando's breakthrough performance on Broadway in "Truckline Cafe" in 1946, Eli Wallach remarked, "We were left empty, empty, and wounded by this actor."
The documentary chronicles Brando's stunning early films from "The Men" in 1950 to "On the Waterfront" in 1954, a mid-career slump, and revival in "The Godfather" and "Last Tango in Paris" from 1972 and "Apocalypse Now" in 1979.
It also examines Brando's career-threatening political activism in favor of civil rights and Native Americans, which Black Panther Bobby Seale and Lakota activist Russell Means called unprecedented among white American celebrities.
When Brando refused his best actor Oscar for "The Godfather" and sent Sacheen Littlefeather to the stage in his place during the awards ceremony, Means said, "That was the finest moment for us in the 20th century."