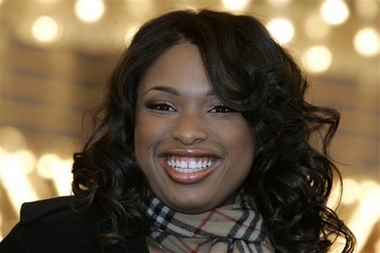 Jennifer Hudson smiles as she is honored in her hometown of Chicago on Tuesday, March 6, 2007. The Academy Award winning actress won an Oscar for best supporting actress for her role in 'Dreamgirls.' (AP Photo/Brian Kersey)
CHICAGO - Since being booted from "American Idol," Jennifer Hudson has won a Golden Globe, a Screen Actors Guild prize and an Academy Award for best supporting actress. On Tuesday, the 25-year-old star of the movie "Dreamgirls" added one more award to the collection - she got her own day in her hometown.
Mayor Richard Daley proclaimed Tuesday "Jennifer Hudson Day" to honor the budding star, whose Cinderella story took her from Chicago's South Side to the Hollywood A-list.
"She's an inspiration to everyone who has a dream," Daley told hundreds of screaming fans. "People told her `You can't.' And she said `I can.'"
Hudson, who appeared on stage in a black wool coat and Burberry scarf, hoisted her gold Oscar statuette in the air and thanked those who had gathered outside the Chicago Theatre for the ceremony.
"Not only can I do it, but you can do it, too," she said before singing a brief song from the hit movie.
Earlier Tuesday, Hudson was greeted by thunderous applause when she spoke to students at Dunbar Vocational Career Academy, her former high school.
In "Dreamgirls," Hudson portrays a vocalist cast out from a 1960s girl group. The role came barely two years after "American Idol" judge Simon Cowell told Hudson she was "out of her league" and she was voted off the TV show.
Her resiliency resonated with fans, who said they admired Hudson for never giving up her dream.
"Anything is possible if you believe," said 18-year-old Sharhonda Woodard, who braved bitter temperatures for a chance to see Hudson in person.
Kirpatrick Taylor, 37, said Hudson was an inspiration.
"She's a dream girl for real," he said.