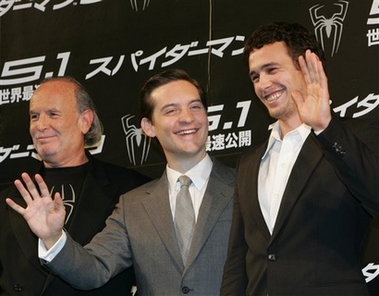 'Spider-Man 3' stars, Tobey Maguire, center, and James Franco, right, wave with producer Avi Arad during a press promotion of the action movie in Tokyo Thursday, March 1, 2007. [AP]
LOS ANGELES - Spider-Man 3 will make its worldwide debut in Japan on May 1, three days before the action film premieres in the United States, Sony Pictures Entertainment said.
The star-studded premiere will be held at a Tokyo cinema on April 16. Those expected to attend include director Sam Raimi, series creator Stan Lee and stars Tobey Maguire and Kirsten Dunst.
The film will be released in various parts of Africa, Europe and Asia before it's shown in the U.S. on May 4, according to Sony's website.