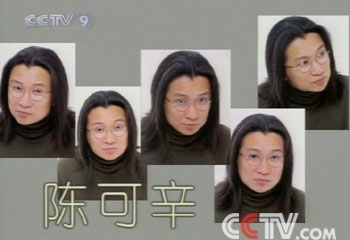 Peter Chan on CCTV 9 [photo: CCTV.com]
Famed director of romances, Peter Chan, now ventures into the Kung Fu arena in his film "The Blood Brothers". Top actors and a 30 million US dollar budget have caught the media's eye. Yet they doubt he can make much of an impression in such unfamiliar territory.  
"The Blood Brothers" is based on a famous criminal case in The Qing dynasty. A man kills a long-time friend to claim his wife. Then the victim's brother seeks vengeance, murdering the murderer and delivering himself to the police. A Hong Kong director brought it to the screen 30 years ago. But the new rendition puts more attention on the three men's relationships. When Peter Chan was asked why he changed to a martial arts format, he said "The Blood Brothers", though not a Kung fu flick at its heart, has some elements containing the martial arts.   
Peter Chan said:"Actually 20 years ago, after watching John Woo's "A Better Tomorrow", I made a wish to one day do a film representing men's affections. Since then I've been making romance movies. And now I've finally gotten the chance to tell this story. There's already seven or eight versions but I hope mine holds the most humanity."  
Chan's first job came as assistant to John Woo in the 1986 film "A Better Tomorrow". Afterwards, while still only 19 years old, he directed his first movie, "Alan and Eric Between Hello and Goodbye". At the beginning of 1990, Peter established the UFO film company, and produced a series of successful films including "Tom, Dick and Hairy","He is Woman, She is Man" and "Comrades: Almost a Love Story".   
"Comrades" won nine Hong Kong Film Awards and was placed in the annual top 10 by "Time" magazine.The film is about two young mainlanders living in Hongkong. It showed how strangers in a strange land tend to bond with one another, and the uncertainty in Hong Kong before its return to China.   
Peter Chan spent his childhood in Hong Kong, and his adolescence in Thailand - then finished college in America. When he was 21, he returned to Hong Kong and entered the film industry. His worldliness helped him see his hometown in a more comprehensive way, as his girlfriend points out.   
In 1998, Peter Chan cast his first Hollywood work, "The Love Letter". Later he orchestrated several international collaborations, with filmmakers from countries like Korea and Thailand.   
From 2002 to 2004 he took part in "The Eye" series. And "The Eye Three" was selected for the opening ceremony at 2003's Berlin Film Festival.   
In 2005 Peter came to the mainland to make "Perhaps Love". And his effort paid off in both awards and ticket sales.The movie abounds with song and dance.   
Peter Chan said:"I wanted to take love to the extreme, to be more drastic. And I had no choice but singing and dancing, to inject something new into a love story. But in the movie, love is still much more important than the songs and dances."   
"Perhaps Love"'s success gave Peter more confidence and made him realize the potential of the mainland film market. Now we'll see if that market can appreciate "The Blood Brothers".