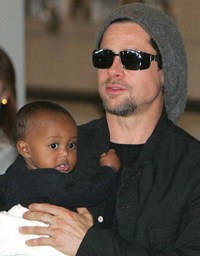 Angelina Jolie beau Brad Pitt has wanted children for a very long time. Now the Hollywood superstar has a near instant family with two adopted children and his first natural child Shiloh.
Pitt is 'Dad of the Year'
And in a recent survey by Life & Style Weekly, Pitt has been given the top dad award for 2006. Brad will be announced as the weekly magazine's 'Father of the Year' in Friday's publication.
Life & Style announced its Top 10 Hollywood Dad's of 2006 just in time for Father's Day.
Topping the list is Father of the Year Brad Pitt, followed by Heath Ledger and Ryan Phillippe, according to Life & Style editor in chief Debra Birnbaum.
"It's been really exciting to see how Hollywood's leading men are taking on the responsibility of fatherhood and how they each showing their unique personalities and styles in raising their children."
The top ten according to the Magazine:
1 Brad Pitt
2 Heath Ledger
3 Ryan Phillippe
4 Ben Affleck
5 Will Smith
6 Matthew Brodericke
7 Chris Martin
8 Guy Ritchie
9 David Arquette
10 Dean Cain