Integrating students from different ethnic groups in the same schools allows children to better understand and respect each other from a young age, and is also crucial to the future of the Xinjiang Uygur autonomous region, according to a local education official.
"Urumqi used to have separate schools for Han Chinese and students from the other ethnic groups. In 2004, we started a pilot plan to merge schools and allow students equal access to better teaching resources and facilities," said Liu Jian, head of the Municipal Education Bureau in Urumqi, the capital of the Xinjiang Uygur autonomous region. "We want to eliminate the invisible barriers the old system created between students from different ethnic groups."
The regional capital now has 97 mixed primary and high schools. Urumqi Senior High School was one of the first to be created under the new system. In May 2004, it was formed by the merger of Urumqi No. 6 High School (for Han Chinese students) and Urumqi No. 14 High School, which served children from other ethnic groups, mostly Uygur.
"The teachers don't see Han Chinese or Uygur students. When a child walks through the school gates, we just see a student," said Wei Lixin, the school's head teacher. "The first thing we want the students to remember is that they are all Chinese."
The school has 60 classes, and 48 percent of the students are members of the Uygur ethnic group. They are taught math, physics, chemistry and biology in Mandarin, but also have compulsory Uygur lessons every day.
"The Uygur language is as important as Mandarin, which is the official language of China, because the students have the right and obligation to master their own language," Wei said.
In 2014, the school also began providing Han Chinese students with lessons in basic Uygur. "The lessons are not only about the language, but are also a way of showing the students that it's important to learn from each other," Wei said.
Purhat Plat, 17, said his class contains a good mix of Han and Uygur. "We play basketball as one team. The Han kids greet me in Uygur and I joke with them in Mandarin. It's all very natural."
Urumqi No. 16 Junior High became a mixed school in April 2004, and now more than 73 percent of its students are Uygurs. "Half of my classmates are Uygur. To be honest, we don't really think about our ethnic groups," Quan Yifan, 15, said. "I really admire a Uygur classmate of mine because he always achieves high scores in exams."
Guljianat Kadeer is a chemistry teacher at the school. About 90 percent of her classes are taught in Mandarin, and she uses Uygur the rest of the time. "I'm from Hotan prefecture in the south of Xinjiang, so my Mandarin is not all that fluent. Since the merger, I've learned so much from the Han teachers and my teaching skills are improving rapidly," she said.
According to Wei, Xinjiang is not the home of any particular ethnic group. Instead, it is home to people from all the ethnic groups, and schools should be the places where the young people of Xinjiang learn to accept and respect differences.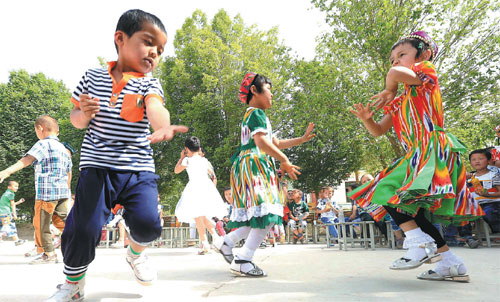 Children dance at a bilingual kindergarten in Hami prefecture. An increasing number of students in Xinjiang are being taught in Mandarin and their native tongue. Cai Zengle / for China Daily
(China Daily 10/09/2015 page6)