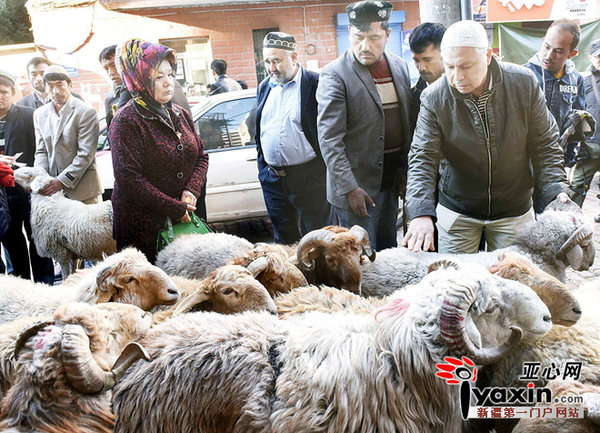 Muslims select lambs to be slaughtered in Urumqi, Xinjiang Uygur Autonomous Region, Sept 24, 2015. [Photo/iyaxin.com]
URUMQI - Muslims in the Xinjiang Uygur Autonomous Region began celebrating on Thursday as one of the biggest religious festivals in China gets underway.
The three-day Corban Festival, also known as Eid al-Adha or feast of the sacrifice, centers around a large feast as Muslims slaughter lambs to share with the whole family.
"The Corban Festival is one of the most important festivals for Muslims," said Ekeram, a 31-year-old Uygur civil servant living in Kashgar." Just like the Spring Festival for the Han people."
Xinjiang has a population of more than 21 million, with more than half of Muslims from 10 ethnic groups, such as Uygur, Kirgiz, Kazak and Uzbek.
PUBLIC HOLIDAY
This year's Festival has been eagerly anticipated by Uygurs and other ethnic groups as it lines up with Mid-Autumn Day, a traditional Chinese festival for family reunion.
In an effort to allow longer celebrations of both holidays, the provincial government declared a five-day national holiday for all nationalities in the region.
People used to begin preparing for the festival two weeks in advance, cleaning their houses, preparing ethnic foods, and purchasing new clothes for the celebration. Those living away from family rush home to celebrate.
Ekeram said he used to buy a lamb days before the festival and slaughter it the first morning of the Corban Festival, boiling it and feasting with his family.
Its a time when Uygurs make rounds visiting parents and other elders in the family after the morning prayers.
"Every one is warmly welcomed and cordially treated during the festival," Ekeram said.