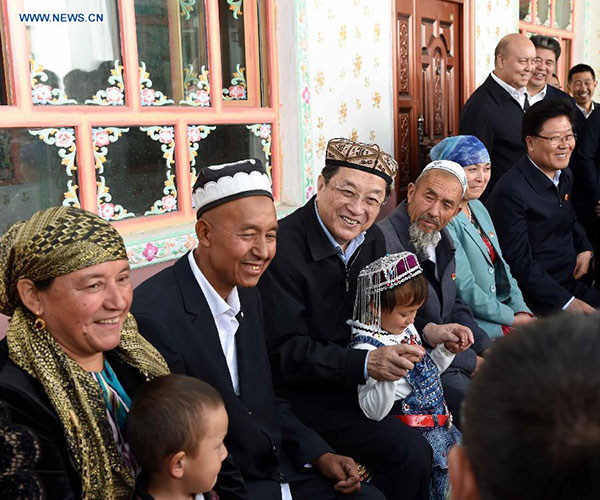 Yu Zhengsheng (3rd L), chairman of the National Committee of the Chinese People's Political Consultative Conference (CPPCC), visits a family of Uygur ethnic group in Elixku Township, Shache County of Kashgar, northwest China's Xinjiang Uygur Autonomous Region, Sept 27, 2015. [Photo/Xinhua]
KASHGAR - Top Chinese political advisor Yu Zhengsheng on Sunday praised local residents for their efforts in fighting terrorism and urged them to cherish stability and unity as he visited Shache County of Kashgar in southern Xinjiang.
Yu's visit to Shache came before the 60th anniversary of the founding of Xinjiang Uygur Autonomous Region. He was leading a central government delegation to attend festivities marking the event which will last till Oct. 1.
When having a discussion with some cadres and local residents, Yu said they have made great efforts in safeguarding stability, referring to Shache as "the front-line of terror." "Having made great sacrifices, they are admirable," said Yu.
Highlighting the importance of Shache's strategic position, Yu said only by standing fast here can stability be achieved, and peaceful life be ensured for the residents.
Yu noted that cadres and residents here should be prepared for "a protracted war" to fight for social stability. "(We) must do everything we can to bring people together, firmly implement the work of separating religion from extremism, guide different ethnic groups to have candid communications and do more heart-warming and heart-winning deeds," said Yu.
Before the discussion, he was given a tour to a village, where he called local residents to cherish the hard-won stability and unity. "Different ethnic groups should be united together like 'pomegranate seeds," said Yu.
During his stay in Kashgar, Yu also visited enterprises and a farm of the Xinjiang Production and Construction Corps.