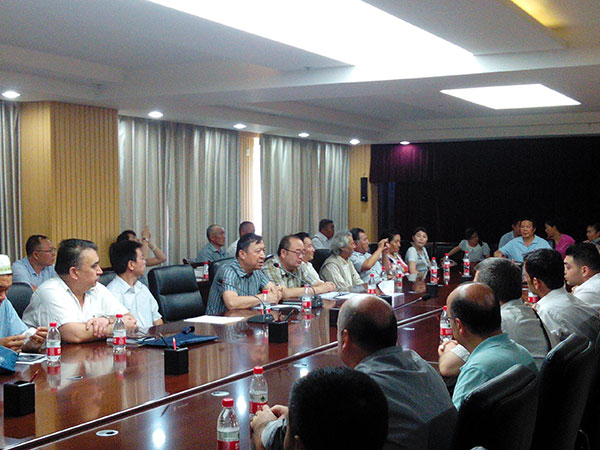 The symposium is held in Urumqi, Xinjiang Uygur autonomous region, on Wednesday. [Photo/chinadaily.com.cn]
The truth in Xinjiang is completely different from a rumor that claims Muslims cannot fast during Ramadan, some Turkish businessmen and returned overseas Chinese learned their own experiences.
"I have the freedom of religious belief in Xinjiang. I also see that Xinjiang Muslims are praying and fasting during Ramadan without any barriers," said Ulkar Uzturuk, a Turkish Xinjianger, during a symposium held in Urumqi for Turkish businessmen, returned overseas Chinese and their relatives in Xinjiang on Wednesday.
Ulkar was born in Urumqi and immigrated to Turkey in 1990. Always travelling between China and Turkey, he is very familiar with the religious policies of the Xinjiang government.
"The rumors and demonstrations are all by the ill-intentioned ones who want to use the Uygur people for their own conspiracy," he said, "The truth of what we see in Xinjiang is that the Muslims can choose to fast or not of their own free will."
Tapek Arkin is a native Turk. He has been doing business in Xinjiang for more than 10 years, and he married a Uygur woman.
"I love Xinjiang very much, where people are open and warm-hearted. There are lots of Turkish people doing commerce here just like me. Rumors hurt the relationship of the two countries, and also our Muslims. Ramadan is the month of peace, and no one should break that peace," Tapek said.
Ali Ablimit, director of the Overseas Chinese Affairs Office of Xinjiang, introduced the four main religious policies of China at the symposium: to insist on the freedom of religious belief, to run religious affairs independently, to separate the church and the state, and to ensure that religious values and socialism are compatible with each other.
The separation of church and state is widely adopted in the international community, Ali said. According to this principle, China will never permit anyone to use religion to intervene in the law enforcement, administration, judiciary and education of the nation. It is not allowed to use religion to undermine national unity, ethnic harmony and social stability. At the same time, normal religious activities are protected, while illegal ones will be punished by law.
Xinjiang is a region of diverse culture and different religions throughout its history. Diversity, inclusiveness and mutual appreciation are the consensus shared by the people of various ethnic groups in Xinjiang, Ali said.
Abduwali Mamut, the vice-chairman of the Federation of Returned Overseas Chinese in Xinjiang, said the current religious policies are the best so far for Xinjiang. The government lawfully protects religions and normal religious activities, maintains religious activity sites, and provides religious books.
Jin Anling, a relative of a returned overseas Chinese, said she has the responsibility to tell her family and friends and Chinese people overseas about the ethnic and religious policies of China and the real life of Xinjiang people, to fight against the spread of rumors.