Muslims in the Xinjiang Uygur autonomous region have been observing Ramadan, the ninth month of the Islamic calendar, since June 22. Ramadan continues until July 18 in Xinjiang, home to more than 12 million Muslims and 24,000 mosques, according to Ma Pinyan, a researcher at the Xinjiang Academy of Social Sciences.
During the month, Muslims are not allowed to eat or drink between sunrise and sunset.
Abdu Rahman, assistant imam of Baida Mosque, leads the worship service on Friday afternoons. He said: "Our mosque receives about 1,200 Muslims each day before and after Ramadan. But during Ramadan, more than 3,000 come for prayer on a daily basis. The biggest number of people we saw reached 10,000."
Abdi Ghufur, the muezzin who calls people to prayer, said adult Muslims must fast and pray. Pregnant women, the elderly, children and the sick or injured are exempt. "About 80 percent of fasting Muslims coming to our mosque are 18 to 35 years old."
Muslims make donations when praying at mosques. Baida Mosque, like others in Urumqi, hires cooks to prepare food. Alimu, a chef at Hualian Hotel, volunteers to help at Baida Mosque every day after work. "I help cook food here for four hours, just to do something good. Not everyone has the chance," he said.
In Kashgar prefecture in southern Xinjiang, Muslims spend the days of Ramadan as they do the rest of the year. Huseyin Sidik, an owner of a hat-making workshop near downtown Kashgar, said his workshop makes about 50,000 hats a year to earn about 150,000 yuan ($24,200) thanks to his six workers.
The workers always fast and pray each day during this period. "At other times of the year, all workers go back to work after lunch. Ramadan means they don't have any food during the daytime. They take a rest for two or three more hours in the afternoon than usual and then make hats again," Sidik said.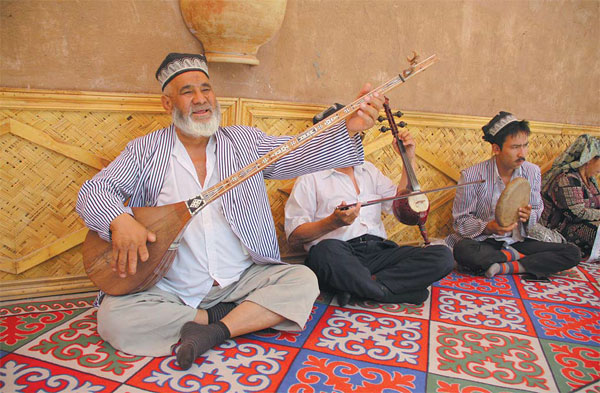 Performers in the ancient town of Kashgar play traditional musical instruments for visitors on July 14. Photos by Hu Yongqi / China Daily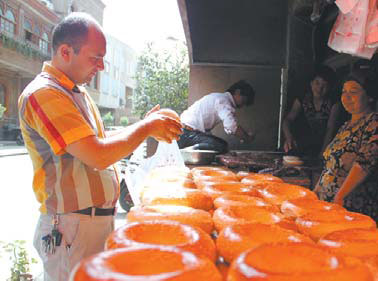 A visitor to the ancient town of Kashgar buys local bread that was baked in a wood-burning oven.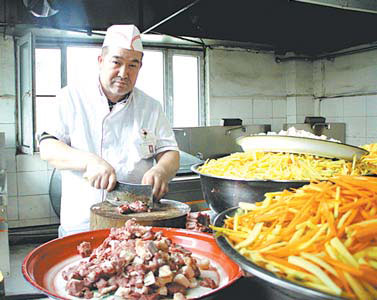 Ubli Siejet, 42, a cook at the Baida Mosque in Urumqi, prepares food for Muslims coming to night prayer.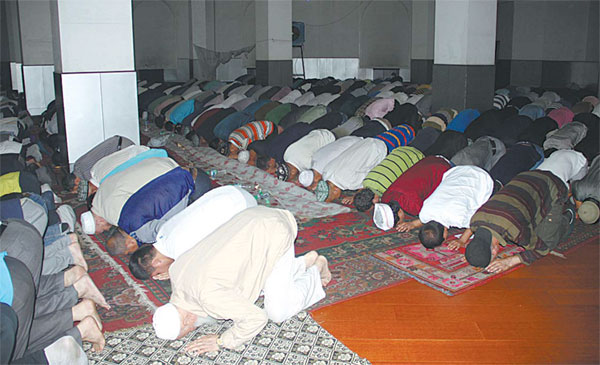 Fasting Muslims pray at Baida Mosque after sunset.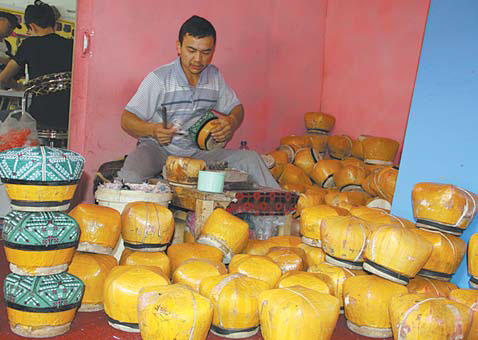 A hat-maker sets the shape of Uygur-style hats in the workshop of Huseyin Sidik, a 40-year-old resident of Kashgar.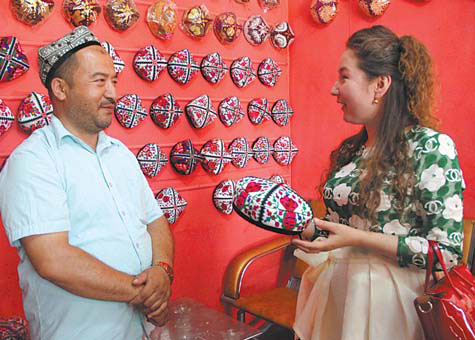 Huseyin Sidik shows his hats to a customer.