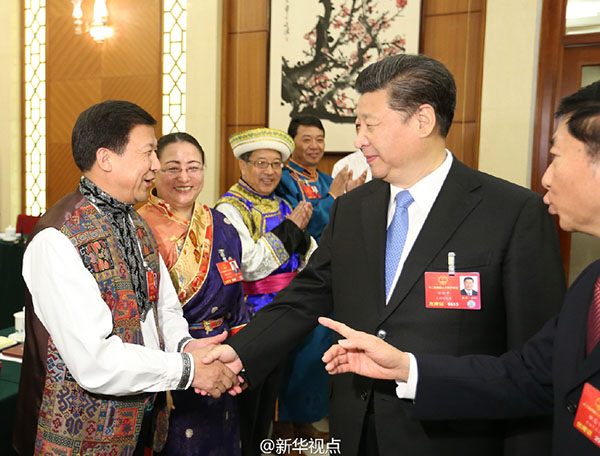 President Xi Jinping meets deputies from various ethnic groups while attending a panel discussion with the Qinghai province delegation during the annual sessions of the top legislature and political advisory body in Beijing on Thursday. [Photo/Xinhua]
Fourth stop: Panel discussion with delegates from Qinghai province
Key word: environmental protection
President Xi Jinping said the local government is duty-bound to protect the ecological environment on the Qinghai-Tibet Plateau, especially in the Sanjiangyuan area, while joining a panel discussion with lawmakers from Northwest Qinghai province on March 10, 2016.
"Protecting the fragile ecology there is of utmost importance. The ecological environment has irreplaceable value. We should treat it as our lifeline and protect it like the apple of our eye."
About Qinghai province
The Sanjiangyuan area, where the Yangtze, Yellow and Mekong rivers originate, is located in Qinghai. The area, known as China's "Water Tower", provides about 40 billion cubic meters of water a year for the lower reaches and supports a population of 600 million.
China established the 366,000-sq-km Sanjiangyuan Nature Reserve in August 2000. About 4,000 meters above sea level, the reserve covers more than 40 percent of Qinghai.
In December, the Central Leading Group for Comprehensively Deepening Reforms, headed by Xi, passed a bill to launch a national park in Sanjiangyuan, further increasing the area's importance as a national focus of environmental protection.