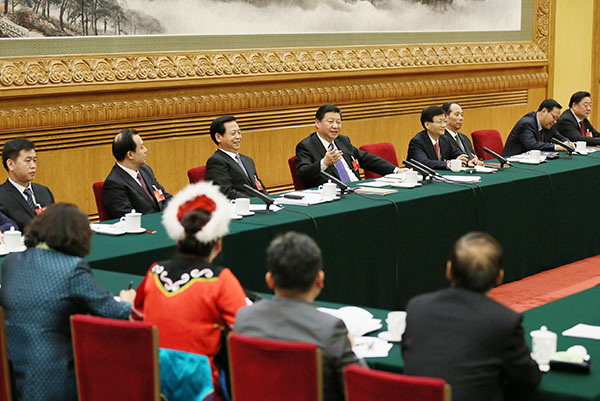 President Xi Jinping attends the panel discussion on the Government Work Report held by lawmakers from Heilongjiang delegation, March 8, 2016. [Photo/Xinhua]
Second stop: Panel discussion with delegates from Heilongjiang province
Key word: Technological innovation
President Xi Jinping encouraged Heilongjiang province to embrace the market and speed up technological innovation to spur growth when he attended a panel discussion held by the region's delegation in the Great Hall of the People in Beijing on March 8, 2016.
"The province must make the best use of its advantages and blaze new trails to revitalize its economy and cultivate additional qualified officials and improve the rule of law to create an environment that is conducive to social and economic development."
About Heilongjiang province
Heilongjiang borders Russia's Far East and used to be the country's economic powerhouse — together with Jilin and Liaoning provinces, all in Northeast China — due to its abundant energy resources and manufacturing industries.
But it has been hit by overcapacity and outdated technology. The province's 5.7 percent GDP growth rate last year ranked among the slowest nationwide.