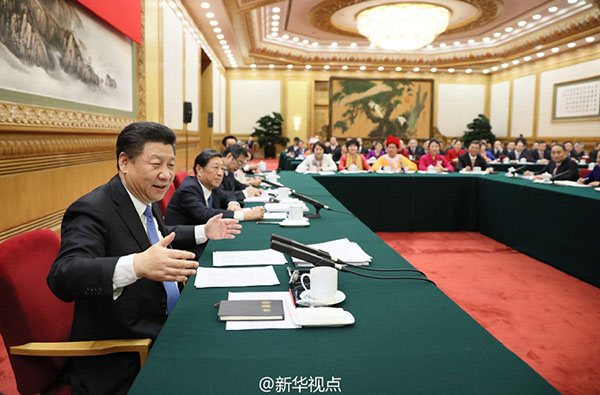 President Xi Jinping attends the panel discussion on the Government Work Report by deputies from the Hunan delegation, March 8, 2016. [Photo/Xinhua]
Third stop: Panel discussion with delegates from Hunan province
Key word: Regional election
President Xi Jinping vowed to show "zero tolerance" toward election fraud when he joined a panel discussion of lawmakers on March 8, 2016, from central Hunan province, where a high-profile vote-rigging case was reported in 2013.
"In the next two years, regular local elections will be held at all government levels across the country. They should learn a lesson from previous vote-rigging cases and follow strict legal procedures and abide by disciplines to completely wipe out election fraud with 'zero tolerance'."
About Hunan's vote-rigging scandal
In Hengyang, the second-largest city in the province, 56 provincial legislators were found to have offered 110 million yuan ($16.9 million) in bribes to hundreds of city lawmakers and election staff members to get elected in 2013.