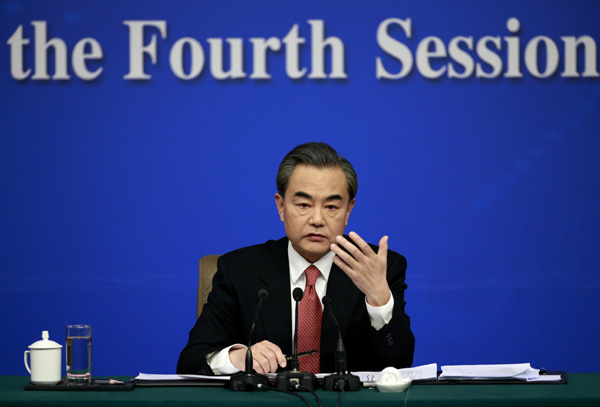 Chinese Foreign Minister Wang Yi takes questions from the press during a news conference on the sidelines of the two sessions on Tuesday. [Photo by Feng Yongbin/chinadaily.com.cn]
The G20 summit to be held in China is expected to boost people's confidence and put the world economy back on the path of strong recovery, Foreign Minister Wang Yi said on Tuesday.
As one of the most important summits to be held in China this year, the G20 will provide a platform for countries to address how to emerge from long-term sluggishness in the world economy, Wang said.
"I am confident that this G20 summit will boost people's confidence, build consensus, and point a way forward," he told reporters at a news conference during the ongoing annual session of the National People's Congress.
This year's G20 summit will be held in Hangzhou, Zhejiang province, in September.
"Hangzhou will be a new launch pad of G20, and China will be a new launch pad for the world economy," he said.
"We will try to break new ground from three new angles; first we want to discover new sources of growth for innovation, second, we want to inject new momentum to the world economy through reform, and third, we want to explore new prospects through development," he added.