China, Kyrgyzstan agree to lift ties, deepen political co-op
Updated: 2013-09-11 15:18
(Xinhua)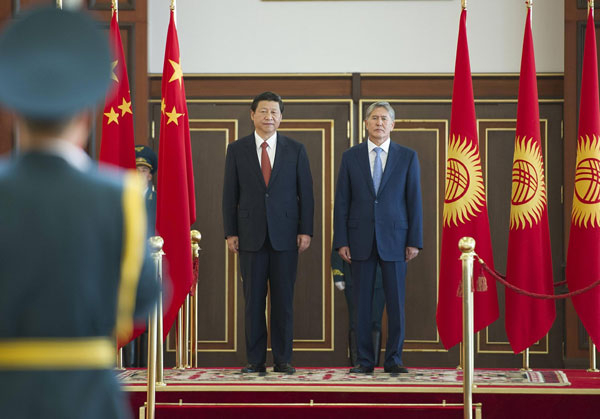 President Xi Jinping, left, attends a welcoming ceremony held by his Kyrgyz counterpart Almazbek Atambaev, right, in Bishkek, Kyrgyzstan, Sept 10, 2013. [Photo/Xinhua]
BISHKEK - China and Kyrgyzstan vowed on Wednesday to lift bilateral ties to a strategic partnership and assign priority to the growth of their mutually beneficial relationship.
The two countries made the pledge in a joint declaration issued after talks between visiting President Xi Jinping and his Kyrgyz counterpart Almazbek Atambaev.
Both China and Kyrgyzstan think highly of the vast achievements both countries have made in their cooperation in various fields since they forged diplomatic ties 21 years ago, according to the document.
They have agreed to lift ties to a strategic partnership, and make the growth of their mutually beneficial relationship a priority in both countries' foreign policy.
Vowing to further increase political mutual trust and promote their cooperation in all fields, China and Kyrgyzstan believe such steps would serve the interests of both countries, as they help promote the common development and prosperity of both countries and their peoples.
Such moves would also contribute to safeguarding and cementing peace, stability and development in the region and the world at large, said the document.
On the border issue, China and Kyrgyzstan will abide by international norms and the treaties they have signed to make their borders a place that fosters good neighborliness and mutual trust between their peoples.
The two countries reaffirmed mutual support for their respective choice of development path, as well as efforts made to safeguard each country's sovereignty, security and territorial integrity and to boost the economy.
The two countries said they would stay away from any bloc, activity or treaty that harms the other's sovereignty, security and territorial integrity. Neither would they allow any other country to use their territory to pursue such goals.
The two sides will also ban the establishment or activity of any organization or group that hurts the sovereignty, security and territorial integrity of the other country.
China and Kyrgyzstan, in the declaration, also vowed to stick to the principle of equality, mutual benefits, and non-use of force in managing international affairs, and stand against all forms of hegemonism and expansionism.
Kyrgyzstan thinks highly of the statement made by Chinese leaders that China will unswervingly follow the path of peaceful development, and never seek hegemony or adopt an expansionist policy in international and regional affairs, said the document.
Kyrgyzstan reaffirmed its recognition that the government of the People's Republic of China is the sole legitimate government of China, and that Taiwan is an inalienable part of the Chinese territory.
The Kyrgyz side insists on the one-China policy, opposes all forms of "Taiwan independence," rejects to set up or carry out any official contact with Taiwan, and supports the peaceful development of cross-Strait ties and China's endeavor at peaceful unification.
Speaking highly of Kyrgyzstan's position, China reiterated its respect for the development path chosen by the Kyrgyz people based on their own national conditions, and support for their efforts to safeguard national independence, sovereignty, territorial integrity and security.
China is ready to continue providing necessary assistance for Kyrgyzstan's social and economic development, according to the document.
The two countries will maintain close high-level contact and find various channels to exchange views on key bilateral and international issues.
They also urged relevant government agencies in both countries to draw up a plan for bilateral cooperation in the next decade.