Chongqing finds opportunity selling motorcycles
Updated: 2013-10-14 00:38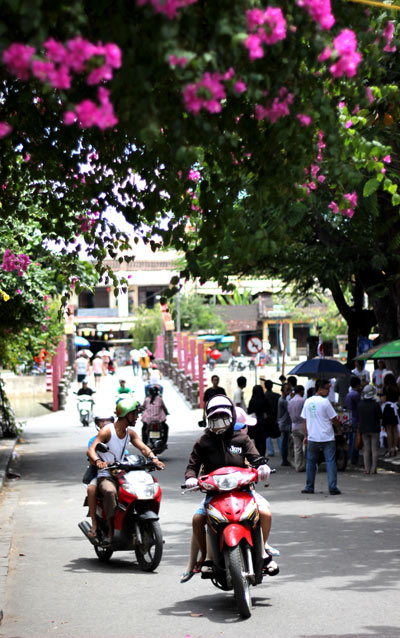 Motorcycles are seen everywhere in Vietnam as manufacturers in China, especially those in the southwest, look to enhance their investments in the ASEAN country. Guan Xin / China Daily
In Vietnam, motorcycles are one of the primary means of transportation, and many of them are labeled "Made in Chongqing".
Chongqing — following the example of the Guangxi Zhuang autonomous region — encourages local companies to invest in Vietnam, increasing Sino-ASEAN foreign trade and cooperation.
When he met a Vietnamese delegation in late September, Chongqing Mayor Huang Qifan said that he hopes trade between Chongqing and Vietnam will increase.
At the meeting, Huang also encouraged Chongqing's developed businesses, such as motorcycle and automobile companies, to invest and set up factories in Vietnam.
The Chongqing Foreign Trade & Economic Relations Commission released an overseas investment regulation in September that encourages local companies to invest in neighboring countries.
"It is a strategic plan in Chongqing to prioritize investing in neighboring countries, such as Vietnam," said Song Gang, director of the department of Outward Investment Administration of the commission. He added that Chongqing's products, such as motorcycles, are in high demand in neighboring countries. These countries also have resourceful and inexpensive human capital.
Song said that Chongqing is a city with a diverse range of enterprises, including large State-owned companies with developed reputations and products, and small and medium-sized enterprises. All can find opportunities in neighboring countries, he said.
Vietnam needs automobiles and motorcycles, which are mature businesses in Chongqing. Vietnam also needs construction materials, such as plaster, which small and medium-sized companies can provide, Song said.
The commission says that Chongqing enterprises have established 21 companies in Vietnam, and the total investment in Vietnam this year was nearly $50 million by August.
Chongqing Dongben Industry Co is one of the Chongqing companies that is setting up branches in Vietnam. Vietnam Dongben Automobile, established in 2001 with a $5 million investment, produces motorcycles, automobile parts and trucks, and sells them to locals.
The director of Vietnam Dongben Automobile, Zheng Dehong, offered three reasons to set up and continue business in Vietnam.
Vietnamese "have a great need for motorcycles. Our domestic company gets a tax deduction for investing overseas, and the Vietnamese government offers many incentives for us to invest there," he said.
He recalled that in 2001, when Chinese banks were not in Vietnam and the company lacked cash flow, Vietnamese banks helped out.
The company also received help from the Chongqing Foreign Trade and Economic Relations Commission.
"When the company first invested in Vietnam in 2001, the State had some restrictions for companies investing overseas. The commission gave us some favorable policies, including providing useful policy consultations and helping my company go through the procedures to go out to Vietnam," Zheng said.
The investment from Chongqing to Vietnam accounts for a large proportion of trade and business between the two countries, said Chen Xiaofu, director of the Foreign Trade Administration Division of the commission.
"In the past, motorcycles from Chongqing had a large market share in Vietnam," Chen said. He added that he looks forward to a bright future for Chongqing and Vietnam's trade and business cooperation when the "Southern Path", a gateway connecting Chongqing and ASEAN countries, begins operating.
The system will encourage logistic distribution between Chongqing and ASEAN countries, shortening delivery time and reducing costs, Chen added.
Contact the writers at luowangshu@chinadaily.com.cn and tanyingzi@chinadaily.com.cn
Tan Yingzi contributed to the story
Related
2013-10-13 17:07:37
2013-10-12 14:53:29
2013-06-21 14:58:13
2013-06-07 02:49:59
2013-03-21 16:07:11
2012-11-26 16:54:13
Oct 9-11: Attend East Asia Leaders' Meetings and Pay State Visit to Brunei

Oct 11-13: Pay State Visit to Thailand

Oct 13-15: Pay State Visit to Vietnam