Chinese tourists meet their premier
Updated: 2013-10-13 07:12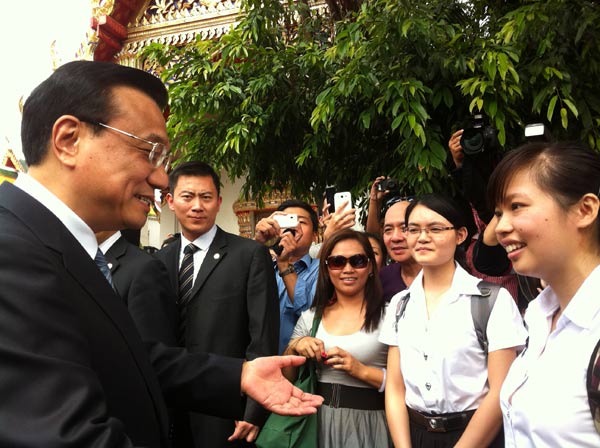 Premier Li Keqiang speaks with Chinese visitors traveling in Bangkok. LI XIAOKUN / CHINA DAILY 
Chinese tourists were delighted to encounter and chat with their homeland's Premier Li Keqiang in Bangkok on Saturday.
The travelers were also happy to hear Thailand and China are working on visa exemptions for regular passport holders.
Li spoke with the Chinese visitors to better understand their experiences traveling in Thailand.
He asked the visitors from Beijing, Shanghai, Guangdong province and Zhejiang province, as well as from other countries: "How long did you wait for your tourist visa to be issued for this trip? How much money did you spend on the application? Did you feel it was difficult to get a Thailand tourism visa? How many days do you plan to stay in Thailand? Do you like the food here?"
Li told the visiting Chinese about the possible visa exemptions.
"It will save your money and save your time, which will make traveling in Thailand much easier," he said.
"You will have more opportunities to come to Thailand. Is it good news or not?"
A 36-year-old Chinese man surnamed Li responded by saying: "It's definitely great news! It's so awesome!"
The native of Guangdong province's Shenzhen city was on a business trip to Bangkok.
"China and Thailand have much closer economic ties. I want to thank my government for doing this for us," he said.
Fang Yuanyuan, a 22-year-old Chinese student from the Guangxi Zhuang autonomous region, cried for joy after meeting Li.
"I suddenly have a sense of belonging since I met my country's leader - especially meeting him outside my country," she said.
"He was so kind when he was talking to us."
Fang and her Chinese classmates met Li a day after their Thai language exam.
Li was happy the students all passed the exam.
"Congratulations! No matter whether you stay in Thailand or go back to China, you all can contribute to our country in many ways," he said.
"The exchanges between China and Thailand are growing, so we need more language talents. You are those talents now."
China is now Thailand's largest source of tourists. About 3.22 million Chinese visited in the first eight months of 2013, up more than 88 percent over the same period of 2012, according to the Tourism Authority of Thailand.
The Thai-Chinese Tourism Alliance Association predicted 5 million Chinese will visit Thailand next year if the visa exemption takes effect in 2014.
Contact the writers at lixiaokun@chinadaily.com.cn and zhaoyanrong@chinadaily.com.cn.
Oct 9-11: Attends East Asia Leaders' Meetings and Pay State Visit to Brunei

Oct 11-13: Visits Thailand

Oct 13-15: Visits Vietnam