Old city zone takes new look in Xinjiang
Updated: 2011-10-23 17:48
| | | | | | | | | | | |
| --- | --- | --- | --- | --- | --- | --- | --- | --- | --- | --- |
|   | | Comments() | | Print | | Mail | | Large Medium  Small | 分享按钮 | 0 |
Entering into the old city zone of Kashgar in Xinjiang, people would see traders selling "nang" bread, leather stocking and clay handicraft. Traditional making techniques of handmade blanket, embroidery and bronze ware were well preserved. Sinuous alleys, well-arranged architectures and the yellowish walls were full of ethnic characteristics. It was a combination of traditional and modern features. Plaster sculpture ornament, wooden niche and ceramic tile, all of them could be found there.
In the old city, the resident Bulpatman Mamat and her granddaughter Musilman Abulla hand-in-hand walked out of the room and made preparation for cooking. Wooden sculptures featuring traditional characteristics were decorated on the door and window of their house.
"Although the painting work of niche is not finished, elders in my family are keen to move into the new house", the 36-year-old Mirnisa Abudulkader said. Her family's three-storey house was close to Bulpatman Mamat's. In a room on the second floor, there was a fitness equipment on the red and black carpet.
In April 2009, the renovation project of the old city zone in Kashgar was carried out according to the national conservation standards for historical and cultural cities. It planned to complete the comprehensive restoration of dilapidated homes within 28 blocks inside old Kashgar city, which encompasses 65,000 households and 220,000 residents.
With a history of more than 2,000 years, Kashgar was historically the gateway and hub for the transfer of goods from China to central Asia and Europe on the ancient Silk Road with its culture featuring distinctive ethnic Uygur characteristics. But the city is located in an area frequently hit by earthquakes, and houses in the old city of Kashgar are mostly old and dilapidated, extremely vulnerable to earthquakes and fire.
The purpose of the old city zone renovation was to protect people's lives and property, and improve their living conditions, while enhancing the quake-resistance of the old houses and preserving the original appearance of the ancient city. Local government helped residents to build the main structure of their houses. Residents decorated their houses, including roof, door, window, handrail and etc., according to their original architectural and cultural characteristics and traditional way of life.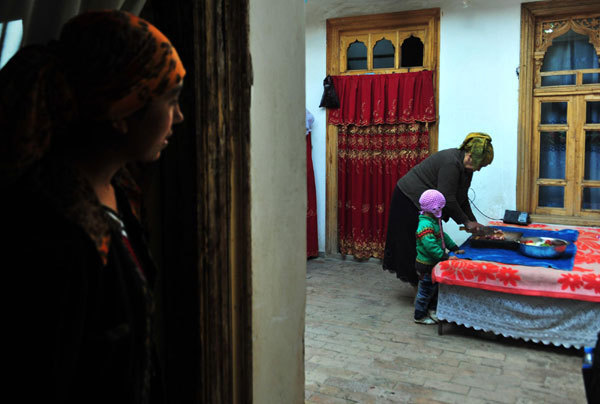 Bulpatman Mamat (back) makes preparation for cooking at her house in the old city zone of Kashgar, northwest China's Xinjiang Uygur autonomous region, Oct 21, 2011.[Photo/Xinhua]