Expanding their presence in China
Updated: 2011-12-28 09:36
| | | | | | | | | | | |
| --- | --- | --- | --- | --- | --- | --- | --- | --- | --- | --- |
|   | | Comments() | | Print | | Mail | | Large Medium  Small | 分享按钮 | 0 |
Several Asian hotel chains are ramping up their moves into the Chinese marketplace, pledging to build dozens of properties in the next five years as the country's rapid urbanization, thriving middle class and growing popularity as an international destination make it one of the hottest markets for the hospitality industry.
The China National Tourist Office estimates that China had 26.1 million visitors last year.
Many Asian hotel companies have played a part in the rapid rate of expansion across the Asia-Pacific region, as they seek to exploit the increasing number of opportunities and growing demand presented by the burgeoning market.
Timothy Ford, vice-president of administration at Lodging Econometrics, said that China presents a great opportunity.
"If you look around the world as a hotel executive and you look at the statistics about where I should be, it comes out China, China, China," Ford said.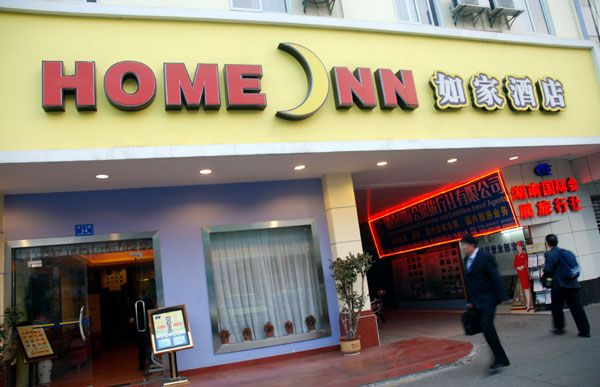 A Home Inns hotel in Changsha, Hunan province. Home Inns is one of the top 100 hotel chains in China. [Lu Jianshe/for China Daily] 
Kent Zhu, group director of sales and marketing at the Hong Kong-based Shangri-La Hotels & Resorts, couldn't agree more.
"The future opportunities in the hospitality industry relate to the Chinese market, not just domestically but also overseas from outbound travel. Very simply, where the Chinese go, we should go," said Zhu.
Having entered the mainland in 1984, Shangri-La has built up a considerable portfolio of 32 properties and it plans to add 23 more.
Zhu added that the company is now looking at tertiary cities and strengthening its presence in key provincial cities.
Singapore's The Ascott, which already has 7,000 apartment units in 38 serviced residences across 16 cities in China, is aiming for 12,000 units in the country by 2015, to become the largest owner-operator of international serviced residences.
Mandarin Oriental from Hong Kong will open just three hotels in Guangzhou, Beijing and Shanghai in the next three years, Michael Hobson, its chief marketing officer, said that's because the company is "reviewing other opportunities in key and secondary cities in China that are able to support a luxury brand such as Mandarin Oriental".
The Singaporean operator Banyan Tree is more ambitious. "We are looking not just at resorts, but also city projects such as Tianjin and Shanghai. We believe we can offer a sweet spot in terms of unique, intimate and personalized experiences that appeal to the affluent Chinese market," said Luca Deplano, vice-president of marketing,
The company, Deplano said, aims to open up 13 more properties on the mainland. In early 2011, the group successfully closed a yuan-denominated private equity fund the Banyan Tree China Hospitality Fund with a total capital commitment of 1.07 billion yuan ($158 million). It plans to fund projects primarily in Lhasa, Yangshuo and Huangshan.
Japan's JAL Hotels also plans to at least double the number of properties it operates in China within the next decade. "We think that the Chinese market has the strongest growth possibilities for us in the whole of Asia," said Eikon Ito of the company's project planning & development office.
Meanwhile, the Thai hotel chain Dusit, which will open its first hotel in Sanya in Hainan island next year, intends to add five more properties in quick succession. The CEO, Chanin Donavanik, said, "China is an expansive country in terms of size and population, with fast-growing and increasingly high-spending consumers."
"The increasing affluence of Chinese consumers and their penchant for travel, both domestically and abroad, is dramatically reshaping our industry," said Deplano.
According to the China National Tourism Administration (CNTA), a record 56 million mainland Chinese traveled overseas last year, while domestic tourists made 2.1 billion trips, bringing in revenue of 1.25 trillion yuan.
"China's tourism has entered a new round of golden growth, thanks to rapid economic development, the rise in incomes and further opening-up," explained Shao Qiwei, head of the CNTA.
Euromonitor International forecasts that China will generate 20 million new outbound departures between 2010 and 2015.
In short, China is an imperative for every hotel operator, no brand can afford to not be in the country or in the consciousness of the globe-trotting, travel-happy Chinese tourist.