DNA test to help send vagrant children home
Updated: 2011-12-28 08:52
| | | | | | | | | | | |
| --- | --- | --- | --- | --- | --- | --- | --- | --- | --- | --- |
|   | | Comments() | | Print | | Mail | | Large Medium  Small | 分享按钮 | 0 |
BEIJING - A vagrant boy sat all huddled up in a corner of Beijing Railway Station, trying to keep himself warm in the chilly wind on Tuesday afternoon.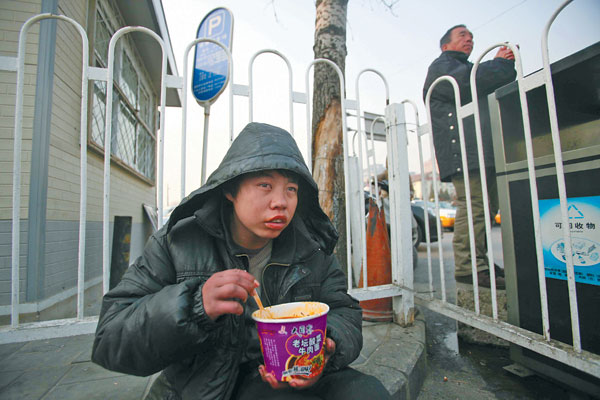 A teenager, unsure of his identity and living on a street corner near Beijing Railway Station, is helped by China Daily photographer Wang Jing on Tuesday before being taken to a care center. [Wang Jing/China Daily]
He could only remember that he was 16 and that his home was far away from Beijing but failed to provide other vital information such as his name or home address.
Two officials from the social assistance center for the homeless in Beijing's Dongcheng district came to his assistance within half an hour of receiving a passer-by's call. The boy was taken to the center's office for some paper work and then sent to a shelter for the homeless in Fengtai district.
"Our center handles about three or four similar cases every month. Those whose family cannot be contacted immediately are sent to the shelter," said Cao Hui, an official who came to the railway station to pick up the boy.
The method of collecting vagrants and sending them to shelters would include an extra step by 2013, according to a notice jointly issued by eight government departments, including the Ministry of Civil Affairs (MCA), on Monday.
The circular required the public security, urban management authorities and rescue centers nationwide to collect blood samples from vagrant children. Their DNA information will be recorded and checked against the national DNA database to see if these could be matched with that of missing children's parents', in case they were kidnapped or stolen by criminals.
The eight government departments will start a year-long national campaign in 2012, aiming to return street children to their homes, which will be led by the MCA.
The MCA urged provincial governments to set up special offices to coordinate the campaign.
Civil Affairs minister Li Liguo said on Monday that the ministry will speed up revising the management regulations related to the homeless and beggars in cities, introduced in 2003. Detailed rules about how different government departments should cooperate with each other to help vagrant children would be formulated in the revised regulation.
The notice also urged the civil affairs authorities to organize social workers to provide one-on-one psychological counseling and aid services to street children.
Educational authorities in locations where the vagrant children are originally from are required to facilitate their returning to schools or vocational institutions. Those from poor families can have their school fees reduced or waived.
Yu Jianrong, a professor with the Chinese Academy of Social Sciences and an initiator of a grassroots campaign to help child beggars, begun in January, applauded the government's consistent efforts to help street children to resume a normal life.
"The notice definitely shows the government's determination to keep children away from begging or performing on the street."
"However, seeing no vagrant children on the street doesn't mean all problems have been solved. The government should make more efforts to improve the social security network for children," he added.
Ablikim has been working with a non-governmental organization in Urumqi of Northwest China's Xinjiang Uygur autonomous region that has helped about 300 children - originally from Xinjiang who turned up on the streets of more prosperous cities, begging and picking pockets - to reunite with their families or put them in child rescue centers.
The 27-year-old Uygur volunteer, urged the police to carefully check the identities of adults who brought several children to the railway station or bus stops, as they could well be human traffickers.