Student sees 2011 as a running challenge
Updated: 2011-12-18 08:40
| | | | | | | | | | | |
| --- | --- | --- | --- | --- | --- | --- | --- | --- | --- | --- |
|   | | Comments() | | Print | | Mail | | Large Medium  Small | 分享按钮 | 0 |
Chris Wehner now knows that when a young US Marine casually tells a couple of female friends that he's thinking about running 2,011 miles in 2011, he might be putting himself on the spot.
"It started as kind of a joke one day at the bus stop," says Becky Tisherman. She and her friends Wehner and Samantha Wolfe are Americans studying abroad at CET Beijing Chinese Studies at Capital Normal University.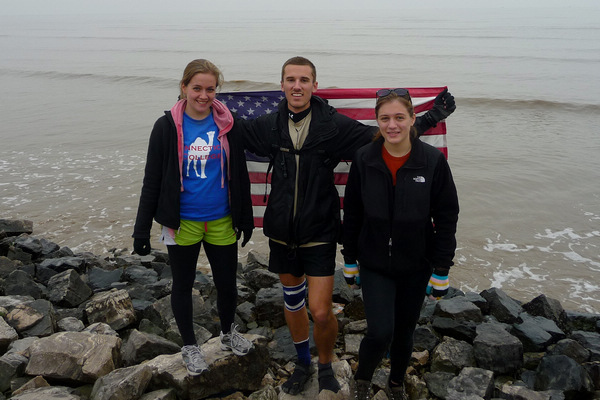 Chris Wehner and his friends capped his quest to run 2,011 miles this year with a trek from Beijing to the sea. Provided to China Daily
"I ran all the way around the second ring road, and then I ran around the third ring road," says Wehner, a senior at the US Naval Academy at Annapolis, Maryland. "I was making plans to do the Fourth Ring Road," he says, "when we realized that if I was going to run that far, I could run to another city instead."
He said he'd like to run to the Bohai Sea, and his friends immediately said, "We like the ocean! We'll go, too," Tisherman said.
The idea took on a life of its own. The two women went shopping for bicycles, and Wehner started working on a plan to get his semester project out of the run.
David Moser, director of the CET program, was skeptical at first, but Wehner had a very specific idea. He'd been working with the NGO called Project Hope, promoting awareness of diseases like diabetes in China. He wanted to make a survey of health conditions and people's attitudes about the environment's impact on health along the way.
Moser gave the green light, and the women found two fold-up bicycles they could take on a bus. Wolfe, who attends Kalamazoo College in the US, and Tisherman, a junior at Connecticut College, also helped plan a video documentary of the project.
Wehner has run in the Marine Corps Marathon in the US capital, and also ran a half-marathon fairly recently in San Diego. So he took the challenge he gave himself here in stride.
He began his years at the naval academy as a chemistry major with a minor in Chinese, but later Wehner made Chinese his major. The language is a recent addition to the academic program, and studying aboard is fairly new, too. "I may be the first to have done both," he says.
The road trip was eye-opening for all of them.
"We'd been in Beijing most of the time," Tisherman says. "But out in the countryside going to Tianjin, we really saw the disparity between those who are well off and those who really have very little."
Wolfe was shocked to see piles of burning trash on the roadsides, and very polluted rivers where people were fishing. "People were surprised that we noticed, or cared."
The hard-legging Marine, meanwhile, said his run through the countryside was like seeing China in a different era. But it was not a bucolic experience.
"I think I was expecting a scene something like Forrest Gump," he says. "But out there it was apocalyptic, there was nothing really natural. The only trees we saw were planted in rows, they were crops among the windfarms and the power plants. It wasn't ever like being in the wilderness."
Then there was the water. Brown. Green. White. Sometimes purple.
"Most people said it wasn't a problem, that it didn't matter to them because the didn't drink that water," Wehner says.
"But we saw lettuces growing right up to the edge of water like that," Tisherman says, shaking her head. "Bright, bright green lettuces."
The trio learned a lot, and all were energized by meeting rural people and discussing diabetes and other chronic diseases as they handed out health brochures as they went.
When they'd circled the north side of Tianjin and arrived at the sea, Wehner had almost achieved his goal of 2,011 miles. So they took the bullet train back to the capital.
"The best part of the trip was getting rid of those bikes!" Tisherman says. The 300-yuan bikes from Carrefour's had been toted on subways and had covered a lot of ground laden with food and gear, especially for the three-day trip to Tianjin.
"They weren't that great," Wolfe says. "I think most of the time Chris was going faster than we were." The group lucked out when a cab driver agreed to take one bike in lieu of the cab fare back to Tianjin, which they figure saved them 200 yuan. They sold the second bike at the train station.
Last week, with 9 miles left to complete his goal, Wehner ran from the campus in southeast Beijing to Tian'anmen Square, circled it a few times and came back.
"That was perfect," he says. "Tian'anmen was where I started this off earlier this year."
You may contact the writer at michael peters@chinadaily.com.cn.