Children recall horror of crash
Updated: 2011-12-15 07:22
| | | | | | | | | | | |
| --- | --- | --- | --- | --- | --- | --- | --- | --- | --- | --- |
|   | | Comments() | | Print | | Mail | | Large Medium  Small | 分享按钮 | 0 |
FENGXIAN, Jiangsu - First-grader Zhang Yinuo who survived unscathed when a school bus with 47 children on board rolled into a roadside ditch as it tried to avoid a pedicab driven by an elderly woman, cannot remember how she was rescued from the freezing cold water, but she recalls: "I was very scared."
Qu Lixiang, another survivor, said he was sitting in the front row of the bus and other children clambered all over him in their desperation to climb out of the vehicle. He was finally dragged out by another survivor - a fifth grader.
Both Zhang and Qu said they would never step in a school bus again.
Qu Qiaoling, whose 10-year-old daughter refused to go to school because of the horrible memory from the accident, said they did not force her.
"We can't blame the girl," she said.
But parents say the children need school bus service because the school is so far away and many of the children are cared for by their grandparents - as their parents are working in cities thousands of kilometers away - who are too old to ensure the children get safely to and from school.
Following Monday's tragedy, in which another eight children were injured, one critically, local authorities suspended the service of all school buses in the county while they undergo safety checks.
Residents are now forced to use their own vehicles - such as three-wheel electric bikes - to deliver their children to school.
"It's not comfortable. My legs are numb," said 9-year-old Cui Jingchan, who travels to school with her three sisters in a small plastic-covered cart pulled by a motorbike driven by their grandfather, Cui Xiangming.
The 60-year-old farmer now has to travel 10 times a day between his house and the Shouxian center primary school because the four girls' classes end at different times.
Wang Suxia, in her late 50s, who injured her left arm recently while farming, had to ferry her granddaughter to the Shouxian central primary school on a worn-out electric bike on Wednesday.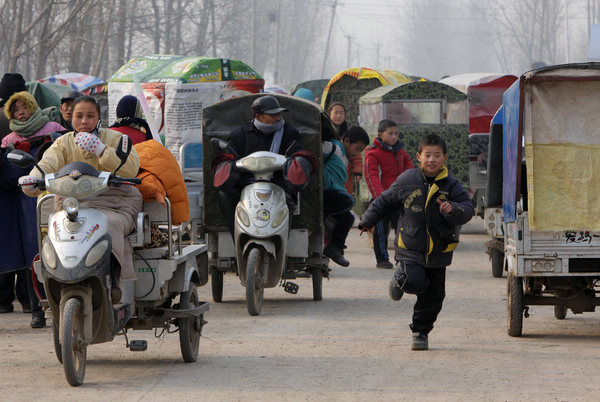 Residents use tricycles to send their children to Shouxian central primary school in Fengxian township, Jiangsu province, on Wednesday because local authorities banned all school buses after a school bus accident killed 15 students. Gao Erqiang / China Daily
Her granddaughter, a first-grader, had to sit on the bike and grasp the handles tightly with her bare hands in the icy winter wind.
Unlike an earlier deadly school bus accident in Gansu province on Nov 16, the tragedy in Fengxian has raised questions about who should run school buses and if private owners should be permitted to do so and how to get qualified drivers able to cope with the dangerous conditions on rural roads.
Since the Shouxian central primary school, like most of other local schools, did not provide a school bus service, the bus involved in Monday's accident was driven by its private owner Hong Xu, who, with his wife, reached agreements with the parents to transport the children to school for about 650 yuan ($102) each semester.
Parents said the local education authority initiated a scheme last year, in which village-level schools were closed and students were shifted to bigger schools in townships. But the scheme does not contain a school bus program for families living far away.
The local authority declined to comment on its yearly expenditure on school buses. But Sun Guanghua, head of Fengxian's education bureau, apologized on behalf of the bureau for the "improper management" of school buses.
Meanwhile, the schools say they are too poor to afford buses.
"We are running short of money," Yue Xiuyun, a teacher at Wangdazhuang primary school in Fengxian, said on Wednesday. "We even don't have money to have a sport's pitch. How can we afford a costly school bus service?"
But despite the shortage of funds to run school buses, the schools object to parents hiring private buses.
The Beijing News, citing an unidentified teacher of Shouxian center school, reported on Wednesday that before the accident the school had forced the parents to reach an agreement, saying the school would be exempt from responsibility if parents insisted on hiring a private school bus that had a traffic accident.
Commenting on Monday's tragedy, Zhou Hongyu, a deputy of the National People's Congress who proposed new school bus regulations this year, said school buses should have priority on the road, but the notion is far from being realized in China.
"The rider of the pedicab that showed up in front of the school bus in the accident should never have competed with the school bus for the use of the road," Zhou said.
He also said the bus was not professionally designed, which could be seen from its lack of seat belts.
Measures to ensure school bus safety

Education authorities nationwide have taken further measures to ensure school bus safety after the school bus rollover accident in Xuzhou, Jiangsu province.

Beijing:

In an emergency notice, the Beijing education authority has made clear that school buses may not go faster than 60km an hour.

The authority also banned school buses from operating in extreme weather conditions, such as heavy snow or fog.

All school buses in the city will be checked and unlicensed school buses will be banned.

Meanwhile, the authority will also give lessons to students and preschoolers about the potential risk of overloaded or unlicensed school buses.

Chongqing:

The local authorities have decided that primary and middle school schoolmasters will be fired if unlicensed or overloaded school buses are found.

The traffic authority has mapped specific routes for school buses and schools will be punished for buses operating outside the authorized routes.

School bus drivers will receive training and be tested in the near future.

The traffic authority will take any trucks, tractors and other unlicensed vehicles found transporting students off the road.

Jiangsu:

Inspection teams have been sent to kindergartens and schools to check the school bus safety, and any buses that do not meet the safety standard will be banned from operation.

Police and traffic authorities will also conduct more road patrols against unlicensed and overloaded school buses.

Education authorities have been ordered to teach parents and students about commuting by school bus.
Xu Wei in Beijing contributed to this story.