Prison, a special place of learning
Updated: 2011-12-03 09:53
By Quan Li (chinadaily.com.cn)
| | | | | | | | | | | |
| --- | --- | --- | --- | --- | --- | --- | --- | --- | --- | --- |
|   | | Comments() | | Print | | Mail | | Large Medium  Small | 分享按钮 | 0 |
What is life like in jail? Is it as hopeless as what was depicted in The Shawshank Redemption? A place provoking people to run away? Jail, a place to confine people and take away a range of personal freedoms as a penalty for crimes, also has the function of reshaping prisoners based on the Prison Law of China.
How do jails achieve their education function in China? Does education really bring hope to those confined souls?
Let's take a look at some cases.
On their toes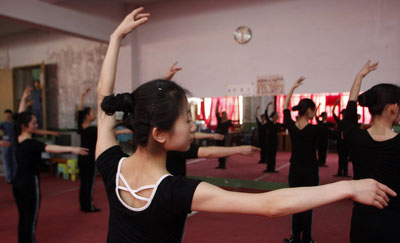 Inmates practice ballet at the Women's Prison in Xi'an, Shaanxi province, April 25, 2011. [Photo/CFP]
They look no different from any ordinary dance group in rehearsal.
At the Women's Prison of Shaanxi province, a dance troupe consisting of 23 female prisoners is one of the dancing teams in China's prisons.
"The purpose of forming the team is to purify their minds and enrich their daily life," said a officer in charge of the prison.
The team stages more than 60 shows a year for visitors, including social groups and organizations.
They practice eight hours a day, and most of the members don't have any formal training. "Our bodies take great pains," said Xiaowei (not her real name), who was imprisoned for drug transporting in 2002 and later became the leader of the team.
"The positive side is, winning applauses from different people gives us so much happiness," she said.
Chalk expressions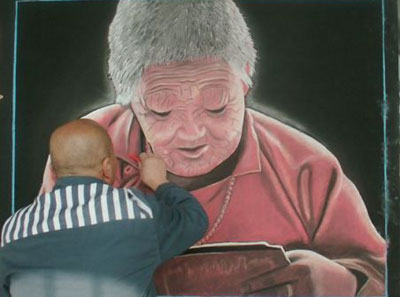 A prisoner draws on a blackboard in Xinyang Prison, November 25, 2010. [Photo/xinhenan.cn]
It looks like an oil painting, doesn't it?
"The picture portrays my mother," said the painter surnamed Chen, an inmate at Xinyang Prison, southern Henan. "She has cerebral problems but insists on visiting me every two months," he said.
Chen is one of the prisoners taking blackboard drawing courses available in many prisons in Central China's Henan province since last year.
"The influence of drawing is subtle," said Liu Weimin, director of Xinyang Prison. "We hope it would awake their inner yearning for beauty."
Blackboard drawing is only part of the art courses for prisoners in Henan. Classes teaching Chinese operas, musical instruments, calligraphy and photography were also introduced in some prisons, along with related art festivals.
"There is little time for random thoughts after doing what I like, and it is great to show my strong side," said Lu Jun (not his real name), an inmate who has dedicated himself to comedy performing in Pingyuan Prison in Xinxiang, northern Henan.
Basketball not just a game
"My heart was dead. How could I think of basketball!" said Wang Long, who received a 14-year sentence in Shayang county, Central China's Hubei province, in 2008.
Wang became a basketball star after three years' training and the winner of "New Journey Star" - the highest honor for inmates - in Changlin Prison of Shayang county.
Wang made his new start since his coach Zhang Jian, a 45-year-old prison officer, took him into the basketball team now made up of 25 players.
"He talked with me and bought me some books about basketball skills," he said. "And what he taught me was not just the knowledge of basketball."
Over 11 years, more than 100 basketball games have been played at the prison.
"Playing basketball is an outlet of emotions for people lacking freedom," said Zhang Jun, an official at the prison. "It proves to be effective, as disciplinary violations are decreasing."