Spain meets China in art
Updated: 2011-10-09 07:50
By Mark Graham (China Daily)
| | | | | | | | | | | |
| --- | --- | --- | --- | --- | --- | --- | --- | --- | --- | --- |
|   | | Comments() | | Print | | Mail | | Large Medium  Small | 分享按钮 | 0 |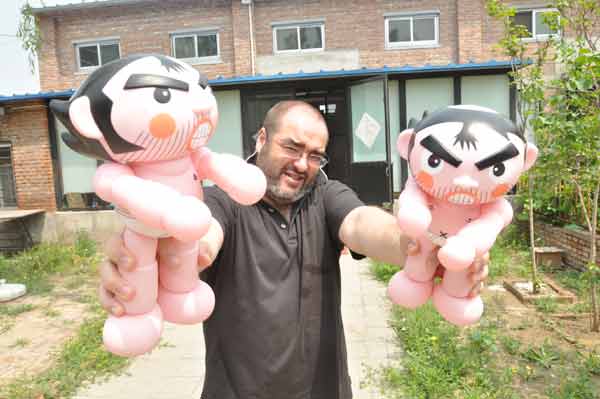 Pop artist Judas Arrieta makes inflatable dolls with a familiar likeness. MARK GRAHAM / FOR CHINA DAILY
Artist Judas Arrieta, who has a flourishing career in his native Spain, astonished friends and family when he announced that he was moving to Beijing to fulfill a lifelong dream to live and work in Asia.
The bold decision was one Arrieta has not regretted for a single second, even though his pop-art work is still sold mostly in Spain, or through the Internet, rather than in his new home base in the Chinese capital city.
"I think working here is a great opportunity," he says. "When people ask where I am from, then I say I am Chinese, but I am a 6-year-old Chinese, as that is the amount of time I have been here.
"You can re-invent yourself here and be much more natural here. The language of art is universal but Chinese people like you to talk, so they can understand more about your art."
Gregarious Arrieta is clearly a fun kind of guy and that personality trait is reflected in his pop-style work, influenced by the Japanese manga cartoon style and clearly meant for entertainment and enjoyment rather than to induce any deeply reflective emotions.
One of his recent projects was to make a limited-edition series of giant inflatable dolls, with a bearded visage not totally dissimilar to their 39-year-old creator, that sell for 880 yuan ($138). If the artist's dolls or paintings bring a smile to people's faces, Arrieta feels he has achieved his mission.
"I want to create a joyful experience," he says. "I try to make art that is close to people. Sometimes, I think I am not an artist but like one of those gypsies moving around from city to city, from carnival to carnival."
Arrieta was already an established artist when he first came to visit Beijing, initially on a residency program organized by long-term Beijing resident Brian Wallace, who has mentored many young Chinese and overseas artists at his Red Gate Gallery.
The Spanish visitor found the buzzing capital city a radical contrast to sleepy northwestern Spain and vowed to try and return as soon as possible.
"I discovered this crazy movement," Arrieta recalls, "with lots of galleries and so many people in the arts scene. For me it was very exciting, people were all working together and helping each other and socializing."
"The first thing my father told me when I went to China was: 'Don't live like a foreigner, if you live like a foreigner, your life in China will be very short'. "
His studio is in the suburban International Art Garden complex in Chaoyang, a Beijing venue where he throws monthly art-themed parties, and hosts visiting artists.
In fact, Arrieta has become something of a cultural ambassador for his home region, organizing Basque government-funded exchange programs that bring Spanish artists to China, and Chinese artists in the other direction.
Arrieta himself still spends the winter months in Spain with his Chinese wife, Vivian Cao Hai Yu, swapping the bitter cold of Beijing for the milder climate of southern Europe.
On his forthcoming visit, Arrieta will be putting on a show in his Basque hometown of San Sebastian, completing a huge wall painting, traveling south to Seville, for the opening of a solo show of his work, and heading to the island of Mallorca for an exhibition.
Arrieta can outdo anyone for wackiness, as he demonstrated by installing 500 plastic "art" toys in the new Deco White Bar, designed, he says, to be like a musical composition.
"My work has always been influenced by Asian culture," he says. "I grew up watching Japanese manga cartoons on Spanish and French television, even though at that time I didn't know where they came from "
You can contact the writer at
sundayed@chinadaily.com.cn.
For China Daily