Chen: environmentalist or just a self-promoter?
Updated: 2011-09-23 08:09
By Yu Ran (China Daily)
| | | | | | | | | | | |
| --- | --- | --- | --- | --- | --- | --- | --- | --- | --- | --- |
|   | | Comments() | | Print | | Mail | | Large Medium  Small | 分享按钮 | 0 |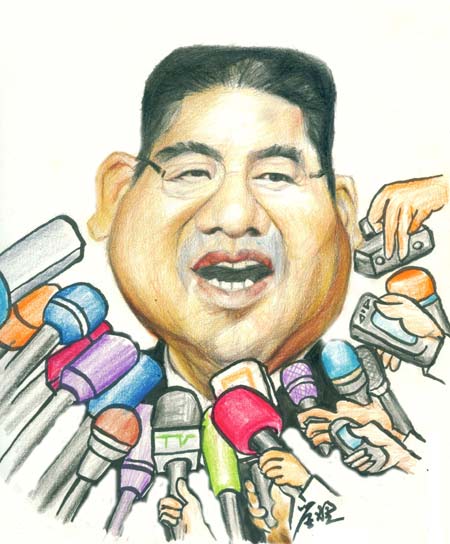 Cartoon by  Zhang Xueli [http://cartoon.chinadaily.com.cn/]
SHANGHAI - Chen Guangbiao, an entrepreneur who smashed his Mercedes-Benz car on Sept 16, said a lawyer who claimed his behavior was probably illegal actually helped him publicize World Car Free Day.
"I want to thank the lawyer who said my behavior was illegal, because what he did will increase public awareness that I did it to promote low-carbon, environmental protection," said Chen, whose image in China is that of a philanthropist and environmentalist.
Chen said what he wanted to do was to make more Chinese embrace the spirit of World Car Free Day and stop using their cars for transport.
Wang Deyi, the lawyer from a Beijing-based law firm, said on his micro blog that Chen's behavior could be considered illegal.
According to Article 275 of the Criminal Law, a person who intentionally destroys or damages public or private property will be fined and sentenced to three years in jail. If the amount of damage is large he could be sentenced to up to seven years in jail.
"I did not agree with what Chen did and judged his behavior under existing regulations to prove that he committed the crime of intentional destruction or damage of property, even if he only destroyed his own property in public," Wang said.
Wang said he was just explaining his comments on his micro blog, not making any personal attack on Chen.
After sending his comments that Chen's behavior was illegal to the official micro blog of the Nanjing police on Wednesday, Wang said he would not take the case further by suing Chen or creating other discussions.
"I also wanted to let more people know that Chen's behavior did not save resources as he claimed, but generated waste unnecessarily and therefore violated the basic norms of the environmental movement," Wang said.
Chen, who has suggested the authorities drastically raise oil prices and parking fees to reduce the use of cars, claimed his behavior had successfully persuaded some of his business friends to stop using high-emission cars.
"I suggest that the 22nd day of each month could be promoted as a car-free day and I would like to do a series of public events to promote environmental protection," he said.
Chen added that he had changed his mind about smashing a BMW next year. Instead, he said, he will publicly auction the car and then use the money to buy bicycles to give to people for free.
However, sociologists said the behavior of both men could be seen as self-promotion.
"Chen, as a successful businessman, has acted from time to time like a performance artist to attract public attention, while Wang's comments on Chen also could be just a way to increase his public profile," said Gu Jun, a sociology professor at Shanghai University.
Hot Topics
Organ transplant bonds mother and son