The debate raging about a new law making celebrities partially liable for dangerous food products they advertise is helping to achieve its overall goal by raising awareness over safety standards, said Chinese legal experts.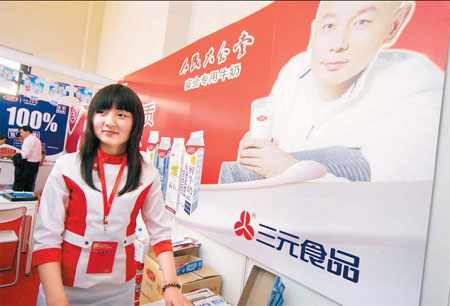 A supermarket saleswoman stands beside an ad showing film star Ge You endorsing Sanyuan milk products. [China Daily]
The Food Safety Law, which was approved by the State Cabinet on Feb 28, comes into effect on June 1. It follows a series of scandals involving products that have killed or poisoned consumers.
But the controversy is over the inclusion of a ruling that makes it possible for authorities to punish famous people who help to promote brands that later prove to be potentially dangerous or substandard.
The move has received a mixed response from celebrities and the public, leading to several high-profile discussions in the media, online and at the two sessions of China's top advisory and legislative bodies.
"Any legislation is useless unless people know what it is and how to use it to protect their interests," said Hou Xinyi, a law professor at Nankai University in Tianjin and a Chinese People's Political Consultative Conference (CPPCC) National Committee member.
"The heated debates will definitely grab the public's attention. Then they will use it as a tool to ensure food safety."
Food safety was in the news constantly last year thanks to Sanlu's tainted baby milk formula, which killed at least six children and poisoned 300,000 more, and scandals over duck eggs laced with melamine and a chilly sauce that contained poisonous additives.
Liu Xirong, deputy director of the law commission for the National People's Congress (NPC), said the change to the law was to stamp out false or misleading food and drink advertisements, many of which feature celebrities.
The penalties are still to be decided but the ruling has already prompted film director Feng Xiaogang to demand "justice for stars" during the annual session of the CPPCC National Committee, branding it a "discriminative" act towards stars.
But Liu Junhai, vice-chairman of China Consumers' Association and a law professor at Renmin University of China in Beijing, said celebrities should be more conscious over legal ramifications and protect themselves by being wary of using unreliable scientific information in advertisements.
"They should calm down and treat the legislation rationally," he added.
Film director Zhang Yimou and Chinese actor Chen Daoming, meanwhile, agreed the law was in the best interests of consumers, celebrities and manufacturers.
"Once in place, regulations will remind each party of their responsibilities when there are incidents, and it will be justified for them to receive penalties in accordance with those responsibilities," said Chen, who has promoted many brands.
Cao Yisun, a professor at China University of Political Science and Law, said: "These debates are mainly over the extent of the penalty a celebrity might face in cases when he or she promotes substandard food. There will be specified and justified regulations on that.
"We decide if a law is strict more by how it is carried out than by how it is written down," he explained.
Professor Hou added: "The law is to ensure food safety. To what extent it might achieve this end depends on how strictly we carry it out. Drafting legislations is only a tiny step, educating the public about it is another.
"There are about 200 million farmers and 500,000 food production companies in China. How to prevent accidents in the current situation will be the biggest challenge to the law."