BEIJING -- China will further promote cooperation and exchanges with Russia this year as the two countries embrace the 60th anniversary of their establishment of diplomatic ties, said China's Foreign Minister Yang Jiechi here Saturday.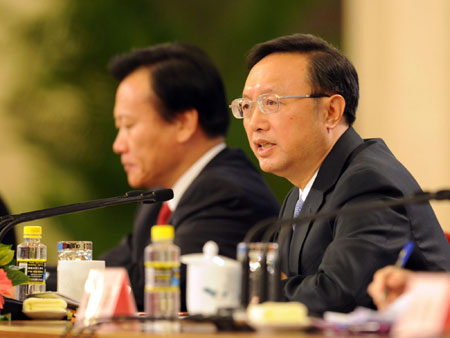 Chinese Foreign Minister Yang Jiechi answers a question at a press conference held on the sidelines of the Second Session of the 11th National People's Congress at the Great Hall of the People in Beijing, March 7, 2009. [Xinhua]
China will fully carry out practical cooperation with Russia in various fields, including energy and science and technology, he told a press conference on the sidelines of an annual parliament session.
The two sides' recent agreement on the construction of a crude oil pipeline project, a long-term crude oil trading deal and a financing scheme was a "mutually beneficial and win-win result", said Yang.
The agreement signed in February allowed China to lend US$25 billion to Russia in an exchange for a 20-year oil supply starting from 2011 with a total volume of 300 million tons.
"China and Russia have come a long way in the past 13 years since the Sino-Russian Strategic Partnership of Cooperation was established," said Yang. "A lot of achievements have been made in recent years particularly."
He urged the two countries,  both major countries and permanent members of the United Nations Security Council, to join hands to promote world multi-polarity and greater democracy in international order.
"We should make greater contribution to promoting world peace, stability and development," said Yang.
He also pledged to enhance high-level exchanges and mutual visits between the two countries and boost people-to-people interaction through such activities as the Year of the Russian Language in China that falls this year.