A rapid return to a sizeable budgetary deficit is well expected given the huge economic difficulties China faces as well as dire global growth prospects. However, a record budget deficit of 950 billion yuan (US$139 billion) planned for 2009 is surprising.
The biggest deficit in six decades has been reportedly submitted to the National People's Congress for review.
If that is the case, lawmakers should not only carefully study the impact that the deficit may impose on the country's long-term budgetary health but also prepare for aggressive supervision to thwart any possible misuse of funds.
Because of the economy's double-digit growth in recent years, China has substantially improved its fiscal strength and even witnessed a fiscal surplus before the growth of tax revenues plummeted later last year.
The strong fiscal position that China enjoyed is definitely of great help at a moment when a deepening global financial crisis drags the world economy into the worse recession in many decades.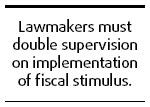 Though hopes are high that the Chinese economy may have shown some early signs of recovery since the government kick-started a 4-trillion-yuan (US$585 billion) stimulus package late last year, a firm commitment to fighting recession with massive fiscal spending is still necessary to ensure stable and relatively fast growth amid all future uncertainties.
In this sense, the alleged record budget deficit is a needed booster to public confidence that Chinese policymakers are tapping as deep as possible into the government's balance sheet to cushion the national economy.
Yet, as top lawmakers gather for the National People's Congress next month, they need to take a hard look at the draft plan put forward for their approval.
On one hand, while recognizing the necessity to increase fiscal spending by a large margin at this critical juncture, they should examine details of the deficit to prevent it from casting too long a shadow over the country's budgetary accountability.
On the other hand, more importantly, lawmakers must assume a greater role in supervising the implementation of fiscal stimulus. All budgetary expenditure should go in line with both the immediate need of boosting economic growth and the country's long-term pursuit of energy-efficient, environment-friendly and sustainable development.
By accounting for about 3 percent of China's GDP, the 950-billion-yuan budget deficit in itself does not pose a serious threat to budgetary health, according to international standards. But by representing an eight-fold leap from that for 2008, lawmakers do need to more than double their supervisory efforts now.