New York - They were the "gold-collar" workers: highly educated Chinese people working on Wall Street. Now, they are known as "sea turtles" as they head home to escape the financial storm.
Nearly 1,000 would-be turtles in business suits packed the ballroom of a New York hotel last Saturday, where they pitched themselves at a job fair for opportunities in Shanghai, China's financial hub.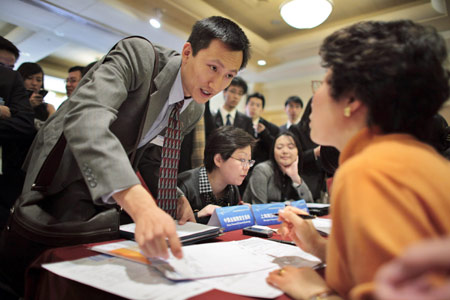 Financial professionals of Chinese heritage and Chinese people studying or working in the United States meet with recruiters for companies from Shanghai during a recruitment event in Queens, New York, December 13, 2008. [Agencies]
Among them was Dong Shaw, who has worked on Wall Street for the last eight years after doing a PhD at Columbia University, and now uses an anglicised form of his last name.
"The crisis in the US is very severe. We're having a serious shock that will reshape the landscape of Wall Street," said Shaw, who is looking for jobs that match his expertise in model-driven stock selection.
Shaw, who said he was in his 40s, currently does stock-picking at a hedge fund and has also worked at Scudder Investments, Goldman Sachs and Bank of America.
Like many at Saturday's fair, Shaw is attracted to China's relatively unscathed financial sector and still healthy growth prospects.
"As a new market, China is full of opportunities," the native of Shanghai said.
The worst financial crisis in decades has left the US economy mired in a recession since December 2007, claiming more than 2 million jobs so far. New York's securities industry has lost 16,000 jobs and could lose a total of 38,000 by next October, while another 10,000 could be axed in related fields such as banking, according to New York's state comptroller.